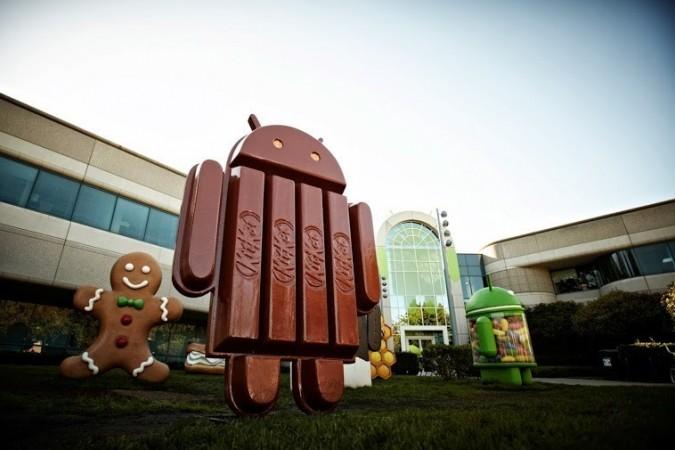 Smartphone leader, Samsung has already released the latest KitKat update to its 2013 flagship smartphones Galaxy Note 3 and Galaxy S4 (LTE variant in USA and South Korea). Now a report has surfaced that the company would soon roll out the chocolate wafer flavored OS to a few more handsets and couple of tablets as well.
Technology blog, Phandroid citing sources has confirmed that Samsung is considering the rollout of its latest software update to a series of devices namely- Galaxy Note 2 (SGH- i317), S3 (SGH-1747), S3 Mini (SM-g730a), Galaxy S4 (SGH-i337), S4 Active (SGH-1537), S4 Zoom (SM-c105a), Galaxy Mega 6.3 (SGH-i527) and tablets - Galaxy Tab 3 7.0 (SM-t21a) and Galaxy Note 8.0 (SGH-1467).
All devices in list include both US and international variants, noted the website. Though there is no proof to authenticate Phandroid's report, one reason to believe that this speculation might turn out to be true is that the devices disclosed by the websites made their debut in 2013. The smart device owners are obligated to receive firmware updates for a period of at least 18 months from the time they get launched in the market.
Apart from these gadgets, Samsung is also rumored to push updates to mid-range handsets - Galaxy S4 Mini (GT-I9190), Ace 3(GT-S7270), S Advance (GT-I9070), Ace 2 (GT-I8160), Core (GT-I8262), Fame (GT-S6810) and Fresh (GT-S7390) later this year.
The new KitKat v4.4.2 software update is expected to bring improved caller-ID feature, improved message inbox (now all MMS, SMS, audio and video chat all under one roof called Hangouts), Quickoffice word app, wireless printing (only in select HP printers, improvement in performance and more.
Brief description of key features of Android v4.4 KitKat OS update:
Improved Caller-ID: If a caller receives a call from unknown number, the phone will look for matches on the net with local listings via Google Maps.
Priority Contacts: The new OS empowers the phone to automatically prioritize contact list for easy access, based on the frequency of calls made to the number.
Camera (Focus and Exposure): Improved 'touch focus' with a ring shaped on-screen control. Users can just drag finger to adjust the focus and exposure options.
Gallery (photo editing): Additional photo editing tools like new filters effects, draw on your photos, advanced cropping, adjustments to color, contrast and more.
Immersive display: To enhance the entertainment factor, the new OS comes with immersive mode, where the status bar and navigation buttons disappear into the back ground while you play music, games and read e-books. Users can just swipe the edge of the screen to bring back the utility buttons.
Enhanced Message grouping: Google has brought in some improvements to the new Hangouts app; now, users can find all their text SMSs and MMSs, audio and video call details all at one place. They can also share location and send animated GIFs.
Emoji Characters: Initially users had to install third party app to use colorful characters in their SMS. Now, with KitKat update, the keypad comes pre-loaded with native Japanese Emoji emotion icons.
NFC and Wireless Printing: Google's new OS comes with a new Quickoffice app where-in users can create and store word documents in cloud storage as well as print files wirelessly on NFC-enabled HP printers.
Multi-tasking: With efficient memory management, users can multi-task by opening multiple applications; Listen to music while browsing through the net.
Performance: Like all software updates, the new KitKat enhances smartphone's performance as well as efficient RAM management, leading to an increase in battery life.