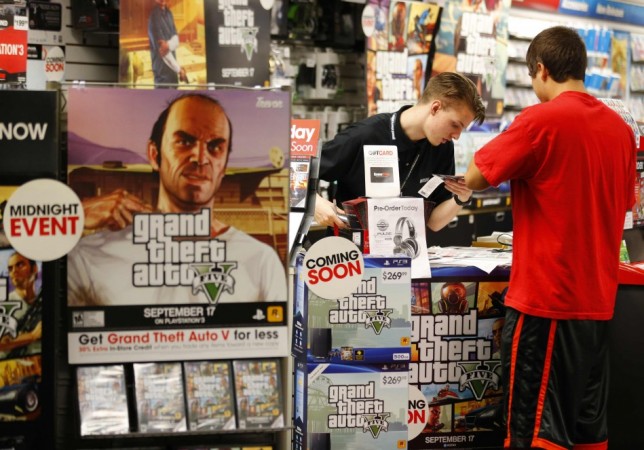 Grand Theft Auto 5, Rockstar's much anticipated flagship game title was finally released for gamers worldwide Sept. 17, 2013, after much leaks and speculations. However, a list of game-play videos started streaming online within a few hours of its release.
The videos show Franklin and Michael drunk and driving on the Los Santos roads, a character jumping off from a cliff named Mount Chiliad and player appearance customization in the game along with Michael's slow-motion in-game special power, according to a series of videos on CVG.
The first video shows Franklin and Michael going to a bar named Singleton in their car and coming out drunk that results in rash driving and abusive language by the duo. The screen amplifies the drunken effect with blurred and little distorted scenes as the game goes on and both drive through narrow gaps between the cars. Check out the video below.
Video Courtesy: CVG
The second video takes the gamer to the top of the Mount Chiliad, a hill in Lost Santos. The character reaches the highest point of the hill through a cinematic and quite long cable car ride, followed by a jump from the cliff riding a dirt bike. Right after the jump, we see that the character loses his dirt bike in the air and opens his parachute trying to land on a moving vehicle. While going through the cable car or when in a parachute, one can witness spectacular landscapes and sunsets.
Video Courtesy: CVG
The third video by CVG, shows the detailed player appearance customization with the help of one of the chief characters, Michael. The Video shows Michael trying varied range of t-shirts and shirts along with shoes in a retail shop followed by the varieties of haircuts and facial hair modifications in the game. Michael's special power in the game, shooting bullets in slow-motion, like in one of the renowned game, Max Payne, is shown. The character is seen running in slow-motion and choosing the desired gun, which he wants to use.
A series of mission walk-through is also available for the gamers. The series comprises of first 14 mission walk-through, which is expected to help the gamers.