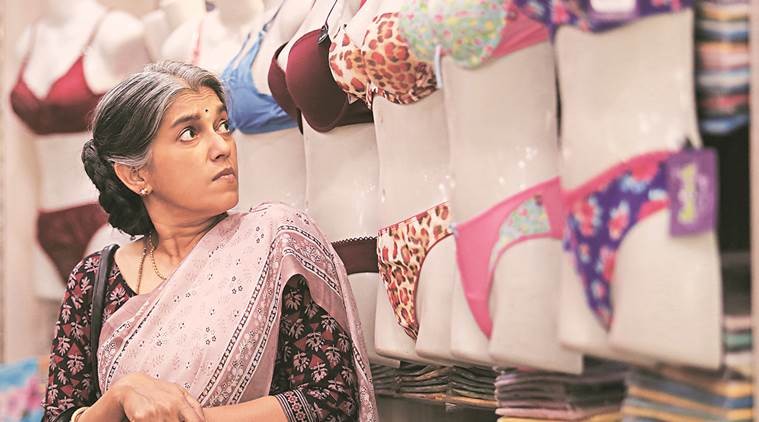 RATING: 4
MOVIE: Lipstick Under My Burkha
CAST: Konkona Sen Sharma, Ratna Pathak, Aahana Kumra and Plabita Borthakur
DIRECTOR: Alankrita Shrivastava
GENRE: Women Oriented movie
Not many things are as thrilling as watching a houseful movie in a theatre. Lipstick Under My Burkha created a lot of buzz before its release for its content. The Alankrita Shrivastava directorial is about four women who dream and fantasise about a different world for themselves hoping that they will come true some day.
PLOT
There are four heroes in Lipstick Under My Burkha -- Konkona Sen Sharma, Ratna Pathak, Aahana Kumra and Plabita Borthakur. All of them live in a society in Hyderabad. Two of them (Konkona and Plabita) are seen chasing their dreams under their burkha which helps them hide their true identity. While one fights for her freedom to pursue a career as well as freedom from her sex addict husband, the other struggles to become a pop star like Miley Cyrus.
The two other characters are played by Aahana and Ratna. One loves to read erotic novels and fantasises about it and even has the urge to explore her sexuality at an older age, finding a young boy for herself, while the other has big dreams but is getting married soon.
All these four characters dream big, but will they succeed in achieving those dreams or will those dreams shatter?
PERFORMANCES
Director Alankrita chose a strong team to narrate the story of Lipstick Under My Burkha on the silver screen. Konkona, Ratna, Aahana and Plabita are amazing and bring out the essence of their characters. Meanwhile, Vikrant Massey has once again proved how talented an actor he is. In fact, the supporting characters too left the audience speechless.
POSITIVES
Lipstick Under My Burkha is a revolution. The movie's story is not like any other women oriented films. It depicted the reality of today's society which is quite literate, but still not that educated when it comes to a girl's freedom and their dreams. We are not saying all the women face the problem, but still, there are a few families who are orthodox. The director has become a good story teller and the actors played the perfect puppets of that show. Our country needs more movies like this.
NEGATIVES
The movie, in some parts, is a tad slow.
VERDICT
Lipstick Under My Burkha is a must-watch. It will tell you that dreams and fantasies look good only on paper and things are very different when it comes to real life.
P.S.: After watching the movie, you will understand why CBFC chairman Pahlaj Nihalani had a problem with a few of Lipstick Under My Burkha's visuals.