Lionel Messi has often been criticised for not being able to replicate his trophy-laden club career at the international level. The Barcelona forward was under severe pressure when Argentina were in danger of missing out on FIFA World Cup 2018 berth.
Nonetheless, it was Messi's hat-trick that helped Argentina beat Ecuador in their final World Cup qualifying match in October last year and seal a spot among the elite teams, who will be seen in action in Russia at the upcoming World Cup, starting June 14.
With only three months to go for the prestigious quadrennial event, Argentina seem to be concerned about Messi's workload at Barcelona. As it turns out, Argentina Football Association president Claudio Tapia wants the five-time Ballon d'Or winner to preserve himself for the all-important tournament playing less for his La Liga club.
"I hope all the players arrive at the level they are," Tapia told TYC Sports of Argentina, as quoted by Daily Express.
"Sergio Aguero's in rude health and Lionel Messi is always good. That is important for the leaders and the coaching staff. We talk to Messi to take care of himself and to play less in Barcelona," he added.
Treble-chasing Barcelona banking on Messi
Tapia's comments come at a time when Messi has been in fine form for treble-chasing Barcelona. Notably, the Argentina star has only missed one league game for the Spanish side in the ongoing season.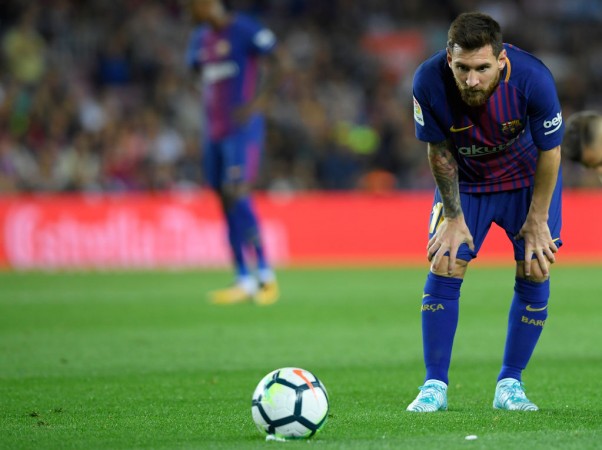 The Spanish giants are sitting pretty at the top of La Liga table, seven points clear off nearest rivals Atletico Madrid. They have also reached the final of Copa Del Rey, which will be played on April 21.
Meanwhile, Messi is also key to Barcelona's plans of winning the UEFA Champions League title after a two-year gap. Notably, the former champions will face English Premier League giants Chelsea in double-legged Round of 16 matches in the coming weeks.
It remains to be seen if Tapia's request will be considered by Barcelona as the club's new manager Ernesto Valverde had made his intentions clear about Messi's workload when he did not rest his go-to-man after the World Cup qualifying campaign.
"Messi had his pre-season which was normal - sometimes the players come off World Cups and other tournaments. I think he is strong at the moment and we thought it was important for him to help us early on this season," Valverde had said ahead of Barcelona's league clash against Atletico in October last year.
"We will look at it as the season goes on, but for now it is a good idea for us that he keeps playing."