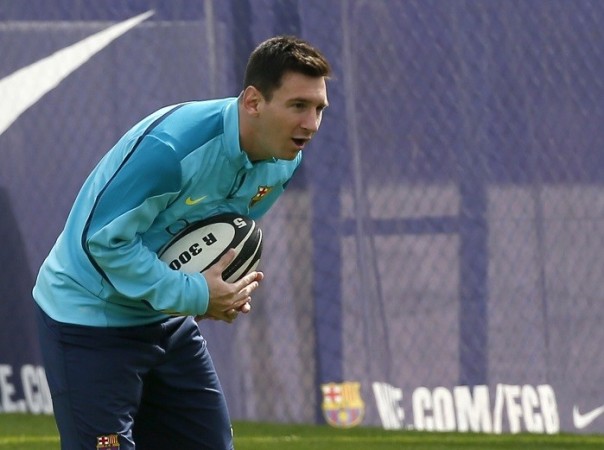 Star striker Lionel Messi has reportedly become the world's highest paid footballer after signing a new contract with Spanish giants Barcelona.
"FC Barcelona would like to announce that Leo Messi and the Club signed a revised contract this afternoon.The signing took place in the presence of Leo Messi, his father Jorge Messi and the Club President Josep Maria Bartomeu, as well as the sporting vice-president Jordi Mestre and the Club CEO, Antoni Rossich," read a statement in the club's official website.
Although Barcelona have not revealed the salary details of the 26-year-old Argentinean, reports in Spain have indicated that the striker will be getting an annual salary of €20 million (£16.3m).
Also, Messi, who scored 28 goals in 30 appearances in the La Liga this season, will be reportedly earning an additional €5m in the form of performance based incentives.
"I am happy to continue at my home like I have always said. The people of Barcelona are those that decide what do with my future and my choice is always to continue as long as I feel the support from them. If I didn't then I would look for a solution because I always want the best for this club," posted Messi on his official Twitter account.
The Argentine, who will be leading his national side to the 2014 World Cup in Brazil next month, accepted Barcelona have not been at their best this season.
"I can only say sorry everyone at Barcelona and promise that next year we will be back at the level this club deserves and we will achieve important things," he added.
This new contract means that Messi will be overtaking Real Madrid forward Cristiano Ronaldo, who is earning a reported €18m (£15m) per season.
Messi, who has scored 354 goals in 424 games for Barcelona, has won six La Liga titles (2004–05, 2005–06, 2008–09, 2009–10, 2010–11, 2012–13), three Champions League crowns (2005–06, 2008–09, 2010–11), two Copa Del Reys (2008–09, 2011–12), six Spanish Super Cups (2005, 2006, 2009, 2010, 2011, 2013), two UEFA Super Cups (2009, 2011) and two FIFA Club World Cup titles (2009, 2011) since making his debut in the 2004/05 season.