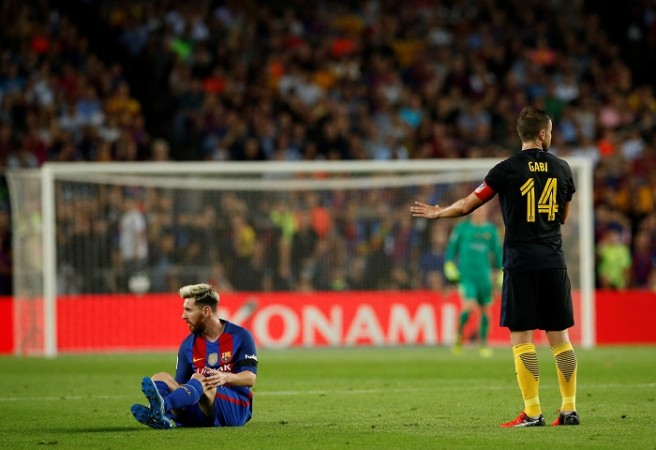 Barcelona vs Atletico Madrid was an expectedly tightly-contested matchup, but the 1-1 draw was marred by an injury to the biggest superstar of the game – Lionel Messi. The Argentine limped off the field in the 55th minute of the match, and will now miss at least three weeks of action.
Ivan Rakitic and Angel Correa were the goalscorers in the La Liga match at the Camp Nou, but it was Messi and his injury that ended up being the major talking point after the final whistle.
"Leo Messi will be out of action for around three weeks," Barcelona said in a statement on their website. "The Argentine star tore a muscle in his groin."
Barcelona will have to make do without Messi for matches against Sporting Gijon and Celta Vigo in the La Liga and Borussia Monchengladbach in the Champions League. There is an international break at the start of next month, and Messi could miss the crucial World Cup qualifiers for Argentina as well.
"Football lost today, and we lost Messi to injury," Barcelona manager Luis Enrique, who also had to cope with Sergio Busquets hobbling off the field, said. Last year he had a longer injury and we overcame it."
"With Leo we're stronger, but we'll continue to be strong."
What the 1-1 draw did was leave Real Madrid in control of the La Liga table in this early part of the season. Real had opened the door for Barcelona and Atletico to reduce the gap at the top after only managing a 1-1 draw against Villarreal, a result which ended their 100 percent start to the La Liga season.
However, with Barcelona and Atletico just managing a point each from their game, Real stay three and four points clear of their two biggest title rivals. Sevilla are second in the table with 11 points from five matches, with Barcelona in third and Atletico fourth.
"We deserved to win based on our approach and how we played," Enrique added. "But, in football, other factors are at play. We had few scoring chances because our opponents didn't allow us to get them," he continued.
"We're the best team attacking close to the goal and they're the best team defending close to the goal."