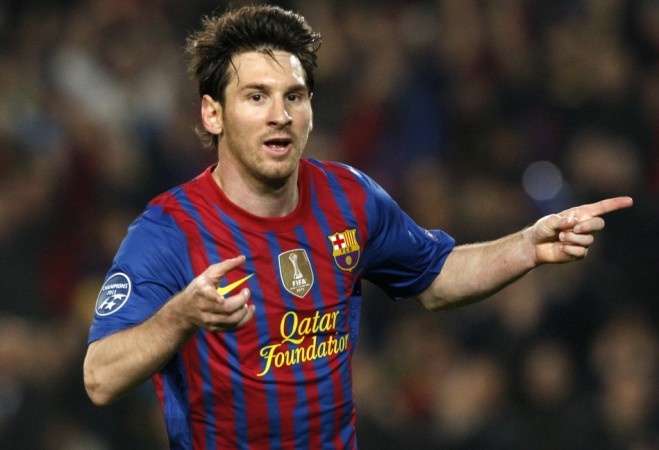 Argentinean footballer Lionel Messi, who was last month awarded the Ballon d'Or for four consecutive years and also holds Guinness World Records for most goals scored in a calendar year with 91 in 2012, has extended his contract with FC Barcelona by two more years.
The 25-year-old footballer has now joined fellow team-mates Carles Puyol and Xavi, who have extended their contract till 2016 last month.
"Really happy after signing my new contract with the FCB... now it's time to sign another one with all of you... would you dare?" Messi posted on Facebook.
"This afternoon Leo Messi extended his contract with FC Barcelona through June 30 of 2018. The signing ceremony was attended by the player, President Sandro Rosell, Vice-President Josep Maria Bartomeu and the Director of Football Andoni Zubizarreta," read a statement on Barca's official.
Messi, whose contract with Barcelona was to expire in June 2016, will now stay in the club till he turns 31. He has expressed his desire to end his career in Europe with Barca but didn't rule out playing for his country Argentina.
"I want to continue playing football for Barça. After he signed his contract with Barça, the Argentine forward declared: "I'm very happy at Barcelona, I've always said that. It's a fantastic day ... I don't know how I'll be when I'm 31. I take it one day at a time and I want to continue playing football for Barça," he told the club's site.
"I said it before, in Europe I'd like to end my career at Barça. I wouldn't consider moving to another European club. With that said, I'm not ruling out the possibility of ending my playing career in Argentina," he added.
Highlights of Lionel Messi's Stay in Barcelona:
1) Messi joined Barca when he was just 13 years old and has been in the club for 13 years.
2) He made his official debut for Barca at the age of 16 in a La Liga friendly match against Porto on October 16, 2004.
3) He scored his first goal in La Liga in the match against Albacete on May 1, 2005.
4) He scored his first hat trick for his team on March 10, 2007 and that too against the arch rival team Real Madrid.
5) He helped Barcelona win the 2009 Champions League title by scoring against Manchester United.
6) He became the highest goal scorer in the history of the club on March 20, 2012, by scoring against Granada. He broke Cesar Rodriguez's record of 232 goals.
7) He has scored 298 goals for Barcelona till date.
8) He has won so much for Barcelona - five La Ligas, three Champions Leagues, two Copas del Rey, five Supercopas de Espana, two Super Cups and two Club World Cups.