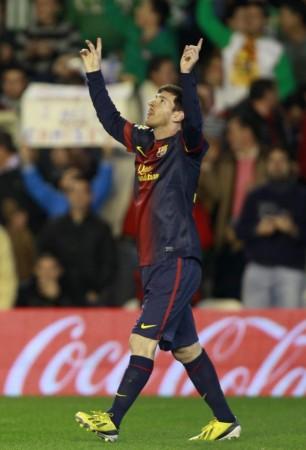 With a double strike against Real Betis on Sunday, Barcelona forward Lionel Messi added another feather to his luminous career, setting record for most goals scored in a calendar year by beating Gerd Mueller's 40-year-old record of 85.
[PHOTOS: LIONEL MESSI'S GOALS]
The 25-year-old 'World Player of the Year' from Argentina equaled Gerd Mueller's record with a superb goal against Real Betis in the 16th minute. He took the tally to 86 goals nine minutes later by sending Andres Iniesta's pass into the net.
He has scored 74 goals for Barcelona and 12 for Argentina so far in 2012, taking the total goals to 86. With more games to play before the year ends, he is most likely to raise the bar even further.
"It was important to win the game today and pretty amazing to beat Gerd Müller's 85 goal record. A really big thank you to all my teammates and fans who have made this possible! Thank you very much for your incredible support. I could not have done this without you!" Lionel Messi shared on his Facebook account.
"I always say the same, it's nice for what it means but the victory is more important as it maintains our lead over the other teams," Messi said in a post-match interview with Spanish TV broadcaster Canal Plus. "My goal, when the year began, was to try to achieve everything again, with the team, in the league, the (King's) Cup, the Champions League. I always start with that idea in mind."
Having reached another milestone in his incredible career, Lionel Messi is no doubt a favourite to be crowned 'World Player of the Year' for the fourth successive time when the award is announced next month. However, he wants his Barcelona teammate Andres Iniesta, who has been nominated along with Real Madrid's Cristiano Ronaldo and him, to win the award.
"Obviously if he (Iniesta) wins it's fully deserved for what he has achieved and what he is as a player, what he does every match," Messi told Canal Plus. "If he wins it would also be a good thing, it's an award for the entire dressing room."