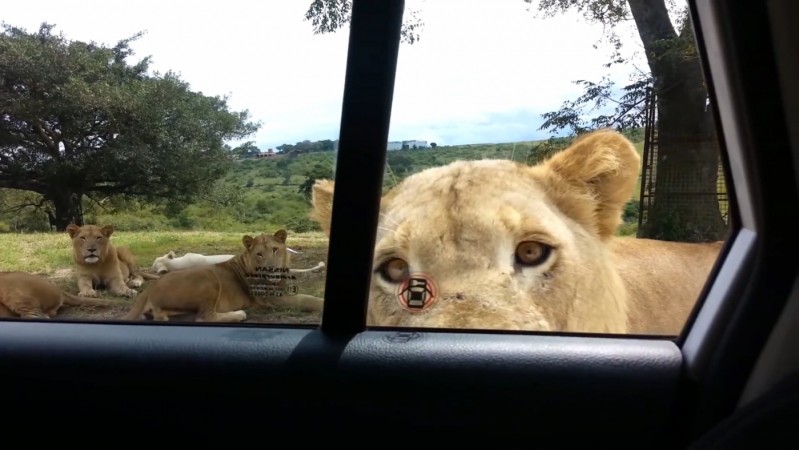 A lioness killed an American tourist in South Africa's Lion Park on Monday, after she jumped through the window of the car and mauled the woman.
Despite strict instructions to keep car windows closed while touring the Lion Park, the woman and a male tourist left their car windows wide open, allowing the lion to maul the woman on the face and neck that led to fatal injuries.
Authorities have decided not to put down the animal and will instead relocate the lioness to another enclosure in the park where tourists do not visit, South Africa's Times Live reported.
Popular lion 'whisperer' Kevin Richardson appealed for the lion not to be put down after the incident.
"She acted like a lion. She did nothing wrong. You can't blame the lion," Richardson told the paper.
The Lion Park is a popular tourist destination in South Africa, located 30 km from Johannesburg.
The lion attack on Monday was the third such incident in the park in six months.
Earlier, an Australian man was mauled by a lion that leaped through an open car window, while in another incident, a 13-year-old boy who was riding his bicycle inside the reserve was mauled by a cheetah.
"We make it so clear. We put signage up everywhere that people must keep their windows closed. We hand them a slip of paper when they enter the park; I really don't understand why people think its OK to leave windows open," said Scott Simpson, assistant operations manager of the park, according to The Guardian.
Following the incident, several netizens took to Twitter with the #SavetheLion hashtag to ensure authorities do not euthanise the animal.
Kevin Richardson also called for park authorities to ensure tour guides accompany tourists.
"People should be supervised and the bottom line is that people in parks like these should learn to respect nature. The lesson to be learned is to adhere to rules and regulations that are put in place," he said.