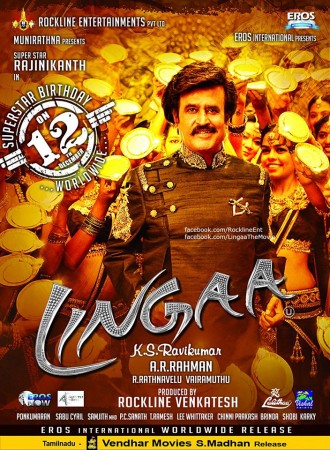 Looks like legal hurdles for upcoming Rajinikanth starrer "Lingaa" would never end. The film has got into fresh trouble, with a junior scriptwriter P Sakthivel moving a Chennai civil court alleging the film and its makers of plagiarism.
Petitioner Sakthivel has claimed that the story of "Lingaa" is based on the script of his film "Uyir Anai," which in turn is based on the life of a British engineer Pennyquick, who constructed the controversial Mullaperiyar dam in the 19th century.
He had also claimed that many directors have heard the story but were hesitant to make a movie based on it as it would have required a big budget. He came to know about the storyline of "Lingaa" through media reports and was apparently shocked to learn that it was similar to his film story. As per reports, he had registered his script with the Film and Producer's Guild of South India on 23 July, 2012.
Shakthivel has appealed to the court to stay the release of the film "Lingaa." Based on the hearings, the judge of Additional City Civil Court has ordered issuance of notice to "Lingaa" director K S Ravikumar, producer Venkatesh and story writer Ponkumar. The case has been posted to 9 December for next hearing.
On 3 December, Madurai Bench of Madras High Court had dismissed a petition by KR Ravirathnam who had accused the film of plagiarism. He had claimed that the story of "Lingaa' was based on the script of his un-released film "Mullai Vaanam 999". The court had ruled that the case was based on mere guesses and the plea was made even without knowing or attempting to know the real story of "Lingaa".
Meanwhile, the makers of "Lingaa" are heading for a mass release of the film worldwide on 12 December which is also Rajinikanth's birthday.