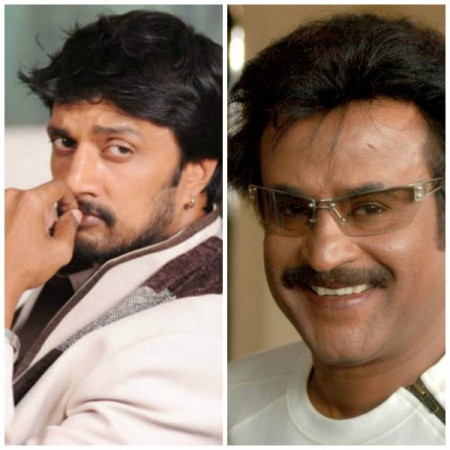 Rajinikanth's "Lingaa" was released on Friday, 12 December, to mixed reviews. Now, the actor is reportedly heading towards his next movie and rumours are rife that he is teaming up with Sudeep.
According to the rumours, Rajinikanth will soon be sharing screen space with Sudeep. The Kannada actor's latest tweet hints at the possibility.
On his Twitter page, Sudeep wrote that he got a call from Rajinikanth on the superstar's birthday (12 December) and it was a pleasant surprise. But it is the last part of his post that paved way for the rumours.
Sudeep has written that there are nice things in store and this line has made people assume that they are collaborating on a project. "Thr ws a surprise for me yday,My phone rang,,was an unknown num n i answrd,,It was th SuperStar hmslf on line..Well,,,nice things in store;)" his tweet read.
As we all know, Sudeep is acting in a forthcoming Tamil film starring Vijay. He will be playing the role of a baddie in the flick. After this movie, he is supposed to work in a KS Ravikumar movie.
Maybe KS Ravikumar is casting both Rajinikanth and Sudeep in the movie, according to the rumour mill. Nonetheless, till there is confirmation people can only speculate.
Meanwhile, Sudeep, after shooting a portion of Vijay's film, has returned to wrap up his forthcoming Kannada movie "Ranna", which will hit the screens in January. His film with Ilayathalapathy will keep him busy in the first quarter of the year 2015.
However, Rajinikanth's "Lingaa" has made record-breaking collections on the first day.