Rajinikanth's "Lingaa" has everything, but lacks punch and freshness in the storyline that the superstar's fans love to see him on-screen. This makes the film just an average entertainer and does not make a memorable film in Rajini's career.
"Lingaa" begins in an interesting note and captures the mood of the audience instantly. Rajinikanth's comedies with Santhanam and the jewel theft scene give the film a fantastic start. But as the story progresses, the excitement is lost and the length of the film does not help the cause.
Lingaa, played by Rajinikath, and his side-kicks, Santhanam and Karunakaran, are small-time robbers. He is the grandson of Maharaja Lingeswaran, but he does not inherit any of his grandfather's property. This makes him hate the old man.
Anushka, a journalist, wants him to forget his past and return to his village Solaiyur to complete an unfinished work by Raja Lingeswaran. The flashback reveals that the Maharaja had constructed a dam after facing a lot of opposition from a British collector. But there was one work, which has to be finished by the grandson. This becomes the climax of the story.
The story on paper might have been a good read, but the execution could have been a lot better. Considering that it is a Rajinikanth film, the director should have taken extra care in the narration rather than giving a lavish look to the film.
The flashback episode is too lengthy and the director could have easily done away with many scenes, which does not add any value to the storyline. Or, the film might have been a different flick all together, if KS Ravikumar made it as a complete period movie set in the British era.
However, this does not mean that "Lingaa" is a bad movie. The movie has all the elements that Rajinikanth fans love to see in his flicks. Rajini's styles, actions, glamour and punch dialogues have been rightly mixed in the storyline. What's missing is a good screenplay.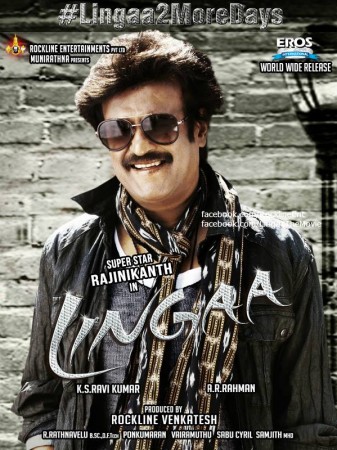 It is wonderful to watch Anushka Shetty in such glamorous role and people are impressed by it. Sonakshi Sinha, though plays the wife of Rajini senior in the film, has underplayed her role and she is impressive. Santhanam breaks funny bones in some scenes. The British actor, who played the villain, reminds us of Neil Nitin Mukesh in "Kaththi".
AR Rahman's usual magic is missing, except a few songs in "Lingaa" and editor Samjith should have been ruthless, while editing and removing unwanted scenes in the narration. However, Rathnavelu is the real hero in the technical department and audience will thank him for giving such a visual treat.
Verdict: In the end, "Lingaa" will only be remembered as a rich movie with a poor presentation where the only saving grace is Rajinikanth.
Rating: 2.5