Rajinikanth's "Lingaa" has hit the theatres worldwide with a bang and has made stunning business. But there are speculations doing rounds that the Tamil movie has made ₹ 60 crores on opening day at the box office.
However, on investigating, it has now been cleared that it is just a hoax report. There are a few TV channels in Karnataka had reported that "Lingaa" had made ₹ 60 crores on the first day worldwide. It became sensational news and people wondered how a regional movie would make such a huge business on the release day.
The report added that "Lingaa" earned about ₹ 40 crores in India and ₹ 20 crores overseas on the first day. As per the report, the Tamil film ran into packed houses in all across the globe. On cross-checking, it has come to our notice that it was a program aired without verifying the facts and the reality.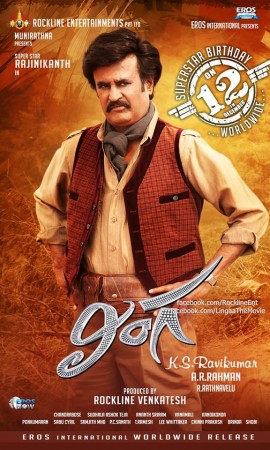 The industry insiders were shocked to hear such numbers because even the Bollywood films, which has the biggest market among film industries in India, will struggle to earn such money even if the films are released in 5000 screens. The biggest opening for an Indian movie is registered in the name of Shah Rukh Khan's "Happy New Year".
"Happy New Year", which was released for Diwali this year, made ₹ 44.97 crores on the opening day. The wide and multiple language release helped the film make such a mammoth business on the first day.
Whereas, "Lingaa" is released in only 3000 screens in two languages. The movie has got earth-shattering response at collection centres in both Tamil and Telugu languages.
As per the early trade report, Rajinikanth and Sonakshi Sinha starrer had earned close to ₹ 30 crores worldwide. In Tamil Nadu, the film has earned ₹16.75 crores.