As the D-Day gets closer, the buzz around the performance of Rajinikanth's "Lingaa" at box office has become the major topic of discussions among traders. It goes without saying that the film will be compared with Vijay's "Kaththi", the biggest hit of 2014.
Here we are explaining you why "Lingaa" will beat "Kaththi" at the box office in the first weekend.
Massive Release
Vijay's "Kaththi" was released in about 1,300 screens worldwide, and in India alone it was released in 900 screens. The Tamil flick had record number of shows in multiplexes. However, "Lingaa" is beating it to become the biggest release of the year. As per the early trend, the Rajinikanth's film is releasing in above 3,000 screens worldwide in three languages. This is the biggest advantage for the film to surpass the "Kaththi" box office record in the first weekend.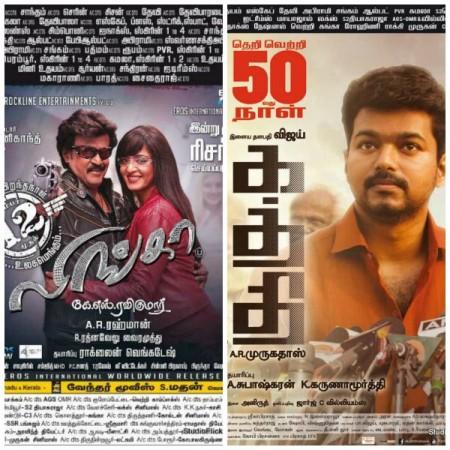 Multi-lingual factor
"Lingaa" is releasing in multiple languages (Tamil, Telugu and Hindi). In Bollywood, it may not be a big film, but in South, the flick is set to take the audience by storm. As a result, no big release either from Telugu or Kannada are releasing this week. In case of "Kaththi", it was just restricted to one language. The multi-lingual factor will easily ensure that the Rajini's film make better business than the Vijay's film.
Pan-India Appeal
"Lingaa" has a pan-Indian appeal. It is for this reason the Eros International acquired the film for ₹120 crore from the producer. Rajinikanth's dubbed Hindi films have good viewership among North Indians. But, Vijay's popularity is still growing and has long way to go to garner nation-wide appeal.
No Negative Campaigns
"Kaththi" had faced troubles one after the other during the release. It was followed by negative campaigns by Vijay's haters on social networking sites. But Rajinikanth does not have an enemy and no negative campaigns can be expected against "Lingaa". He is loved by all section of audience and this plays a major role in beating "Kaththi" records at the box office.
Rajinikanth has bigger market than Vijay
Last but not the least, Rajinikanth's market is bigger compared to Vijay and it is obvious that his film will easily get a better response than the Ilayathalapathy starrer.