Rajinikanth's "Lingaa" has taken the box office by storm as the Tamil movie has made fastest ₹ 50 crores at box office. The best part of the story is that the flick has heading towards grossing ₹ 100 crores in a very short time!
The latest movie of Rajinikanth has made stunning business at various circuits. "Lingaa" has done exceptionally well in its strong territories like Tamil Nadu, Karnataka and foreign centres like Malaysia and the US.
On the first day, as per the trade reports, "Lingaa" earned ₹ 32 crores worldwide. This is the biggest-ever collection made by a Tamil movie till date. Tamil Nadu contributed around ₹ 13 crores to the total with Andhra Pradesh and Telagana regions making ₹ 6+ crores, Kerala raking in ₹ 1.5 crores and Karnataka collecting ₹ 2.1 crores to take the South Indian total collection to ₹ 22.6 crores.
The rest of India, mainly comprising North India, earned just ₹ 50 lakhs, taking the total domestic collection to ₹ 23.1 crores. But the overseas collection made the big difference as it earned around ₹ 10 crores to end the first day collection of the film at ₹ 33.1. The major contribution came from the US where "Lingaa" made ₹ 2.5 crores ($ 404566) on the release day.
As per the traders, "Lingaa" has repeated the same performance on the second day (13 December) in most key centres. The Tamil flick has earned about ₹ 29 crores on the second day. The first two days collection stands at ₹64.1 crores.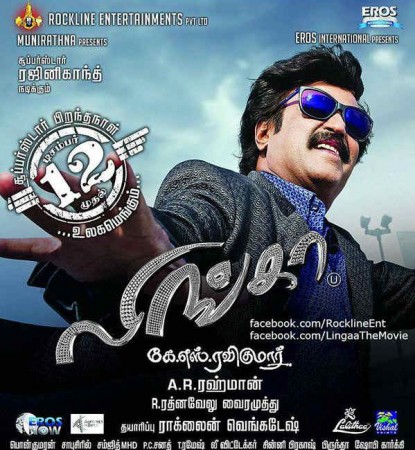 The traders are curiously looking forward to see whether "Lingaa" could reach the 100-crore mark in its first weekend itself. The Rajinikanth's film requires approximately ₹36 score the fastest century in Kollywood. It means the Tamil flick should perform better than its opening day.
There are still hopes on "Lingaa" making ₹ 100 crores in the first day as Sunday is a holiday. The turnout of the family audience are expected to be very high on this day.
Nonetheless, there has not been any official announcement on "Lingaa" business from the makers of the film. Eros has often released the numbers on its collections and it might reveal on Monday, 15 December.