Controversial film trader and Bollywood critic Kamaal R Khan has taken potshots at Rajinikanth again. This time, he has commented on the performance of superstar's movie "Lingaa" at the box office.
The Tamil movie was released on 12 December, coinciding with Rajinikanth's birthday. The movie, which got thumbs down from critics, has created confusion over its collection, with the makers claiming that the movie has been doing well at box office whereas its distributors have been spreading the news that they are incurring huge losses.
The Hindi version of "Lingaa" was released on 26 December but the movie failed to keep the cash registers ringing, with its lifetime business just ₹4 crore. This has caught the attention of Kamaal R Khan, who has mocked at its commercial performance.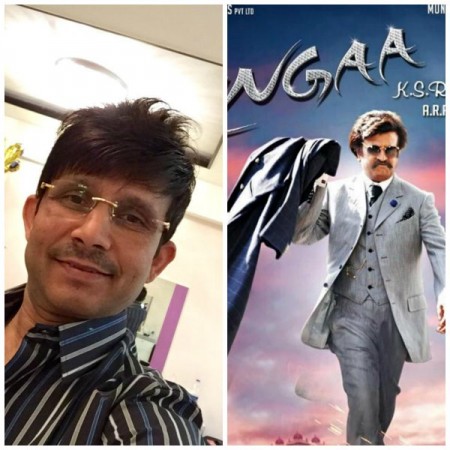 "So called Super Star Rajnikant's film #Lingaa ( Hindi ) has done lifetime business of ₹4Cr which can't recover digital expenses also. Hahaha," Kamaal R Khan posted on his Twitter account.
His comment has hurt Rajinikanth's fans who have reacted with strong and harsh words.
This is not the first time that Kamaal R Khan has made a negative comment on Rajinikanth.
Earlier, he had tweeted, "Ranjnikant(h) is not bigger star than Ashish Chaudhry in Hindi films. And now, don't ask who is Ashish? May be he is superstar in South? I have watched only two films of Rajnikanth. Andha Kanoon for Bachchan sir and Robot for Aishwarya ji. So, how to accept that ugly guy a Superstar?"
Coming back to "Lingaa", the movie is produced by Rockline Venkatesh and directed by KS Ravikumar. The complete theatrical rights was acquired by Eros International for ₹120 crore. This is for the third Rajinikanth and Ravikumar joined hands after "Muthu" and "Padayappa". But the latest movie could not become a hit like their previous films.
Nonetheless, "Lingaa" has made a business of ₹150+ crore worldwide.