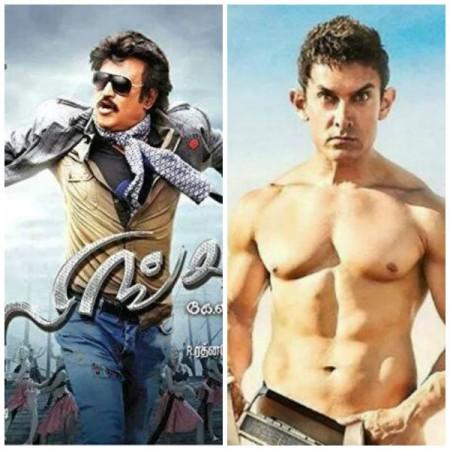 Aamir Khan's "PK" might be performing better than "Lingaa" in overseas markets, but the film has failed to overtake the Rajinikanth starrer at the Malaysian box office.
Malaysia is one of the key markets for Tamil films as Tamilians constitute a majority of the Indian diaspora in the country. Tamil films manage to get more number of screens than the Hindi films of big stars like Shah Rukh Khan, Aamir Khan and Salman Khan.
Rajinikanth's recently-released "Lingaa" is faring well at the Malaysian box office. The film, which hit the screens on 12 December, has so far minted MYR (Malaysian Ringgit) 2,193,399 (₹3.99 crore). Despite the release of "PK," "Lingaa" has continued to fare well at the box office.
"Lingaa" minted MYR 100,947 in its third weekend (26-28 December) in Malaysia. On the other hand, "PK" grossed MYR 52,836 in the first weekend and it has raked in MYR 134,265 in 10 days (19-28 December), according to Bollywood Hungama.
While "PK" has failed to beat "Lingaa" in Malaysia, the film has continued to rock in other overseas markets. The Aamir starrer has grossed ₹93 crore from the overseas markets.
Its worldwide collections is over ₹400 crore.The film has surpassed the worldwide lifetime collections of "3 Idiots" and has emerged as the third highest grosser of all time, according to Koimoi.
It might soon surpass "Chennai Express" worldwide collections, which amount to ₹422 crore and take the second spot in the list of highest grossing Bollywood films of all time.
"PK" is also doing exceptional business in India where the film has surpassed "Kick" collections amounting to ₹233 crore. The film continued to dominate despite new releases like "Ugly" and "Lingaa" (Hindi version). With the Aamir starrer dominating the screens, it has become difficult for the other films to get enough number of screens. This, in turn, has affected their business at the box office.
The Tamil version of "Lingaa," however, continues to rake in decent collections in Tamil Nadu. The film took good openings, but its business has dropped owing to mixed reviews. "Lingaa" is expected to emerge as an average fare at the box office.