Rajinkanth's "Lingaa" fever seems to have fizzled out in just a week. The Tamil movie, which was expected to shatter collection records, has reportedly caused huge losses to distributors.
They are now planning to seek compensation from none other than Rajinikanth himself.
A group of distributors and exhibitors met on 18 December to dicsuss the losses they had incurred due to "Lingaa" failing at the collection centres.
They have decided to request Rajinikanth to intervene and compensate them for their losses. In the mean time, they will also be having talks with Vendhaar Distributors, who acquired the Tamil Nadu theatrical rights from Eros International.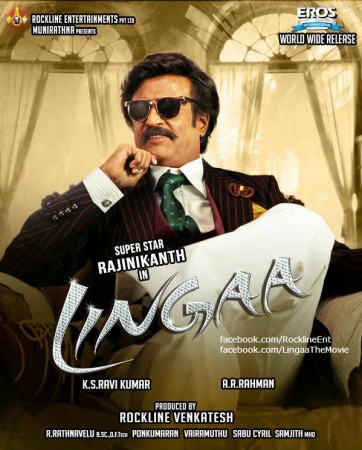 "Lingaa" had a wonderful pre-talk and this made many distributors purchase rights for different regions for fancy prices. The distributors and exhibitors anticipated "Lingaa" to be another "Endhiran – The Robot" directed by Shankar. But the film, after getting a dream start, failed to pull audiences to theatres to expected levels.
The first and the second days were the best for "Lingaa" as the movie made earth-shattering business in both the Tamil and Telugu versions. The problem began post Sunday. The collections in Kerala, Karnataka and Andhra Pradesh have dipped in the week days. Even in the international circuits, the collections were lower than expectations.
However, it is different in Tamil Nadu for "Lingaa" as people are still coming to watch the movie. But the distributors are not likely to recover their money if the movie continues to earn at this pace. Hence, they are now planning to seek compensation.
This is not the first time when a Rajinikanth's film has failed at box office. Earlier, his "Baba" had bombed at collection centres and the superstar had compensated for the losses.
"Lingaa" is produced by Rockline Venkatesh and directed by KS Ravikumar. The theatrical rights of the film was acquired by Eros International for ₹120 crore.