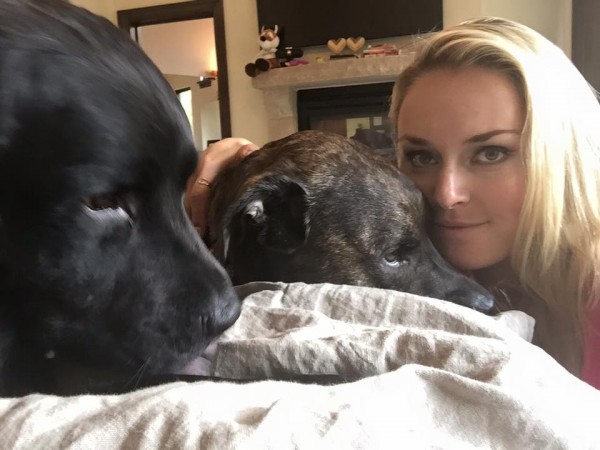 When Lindsey Vonn got dressed for gym on Monday, she did not know that she would be unknowingly exposing more than she bargained for. One of Vonn's dogs got a bit aggressive with her workout gear and this resulted in multiple holes on her yoga pants. But the athlete took everything in good spirits and took to Instagram to laugh off the unfortunate wardrobe malfunction.
The picture shows Vonn bending over and grabbing weights while displaying the multiple holes on her rear end. "I love Mondays...especially when you get to the gym and your trainer starts laughing at you because your dog ate your pants...literally," the Olympic alpine ski racer wrote along with the photograph.
Interestingly, this isn't Vonn's first wardrobe malfunction. Vonn graced the red carpet at the Los Angeles Dodgers Foundation Blue Diamond Gala on July 28 and she accidentally flashed her underwear when her blue slit dress shifted. More than the wardrobe malfunction, Vonn's toned legs and her amazing fashion sense was what attracted the media attention.
Earlier this year, Tiger Woods' ex opened up about being considered "sexy" in the public eye and she said the "Sports Illustrated" swimsuit shoot she did helped her embrace her body.
I think it's about being confident in yourself, and that's why I did the 'Sports Illustrated' shoot," Vonn told HollywoodLife. "I've done them before, but obviously the swimsuit edition is taking it to another level. I was very nervous, I'm not entirely comfortable with how I look."
I think this whole experience gave me a lot of confidence in myself and I want to show that to young girls. Strong is beautiful and you should be proud of yourself and use what you have," Vonn said, adding: "I won't be doing it in the future, but I proved that I can do it."