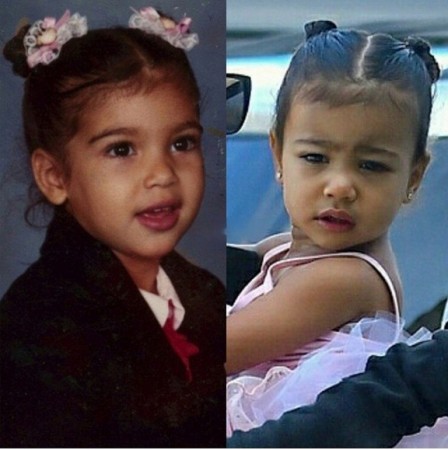 Selfie-taking skills seem to run in the Kardashian family. Kim Kardashian, who published a book containing her selfies, revealed during her book-signing event that her barely-2-year-old daughter North West is already an expert in taking selfies.
Kim released her book "Selfish" on Tuesday, 5 May, and during an interview with E! at the book signing event at Barnes & Noble in New York, she candidly spoke about her toddler daughter's latest hobby, clicking selfies.
Kim said that while she was browsing through the computer in which she stores all of baby North West's favourite movies and songs, she came across the photo-booth gallery. There were a lot of selfies taken by North West that pleasantly surprised the proud mother.
In one of the photos, she even made a puckered duck face. "I was like.. what is she doing? She has no idea. Unless she is watching me all day," Kim said.
The proud mama also spoke about stepfather Bruce Jenner's recent interview with Diane Sawyer and how husband Kanye West helped her in cutting down the number of selfies she used for "Selfish".
"We all love and support him no matter what, but it is a hard adjustment. And I think its really informative for other families who are going through this. I think people will learn a lot and understand its OK to have every emotion, and at the end of the day, I don't know if you'd say 'normal family' but we're a family that goes through so much," Kim said.
In the upcoming Bruce Jenner Special on the family's reality show "Keeping Up with the Kardashians", the reactions of each family member to Bruce's coming out will be shown. The two-episode "Keeping Up With the Kardashians: About Bruce" will premiere on Sunday, 17 May, and conclude on Monday, 18 May.
"We just support each other through everything, but there is a learning curve, there is an adjustment period. And, at this moment when we were filming, it was a period of time when it was first starting to happen and it was really raw and real for us, so some family members have a harder time and you just see our journey. We just filmed it to help other families going through what we're going through," elaborates hopeful Kim.