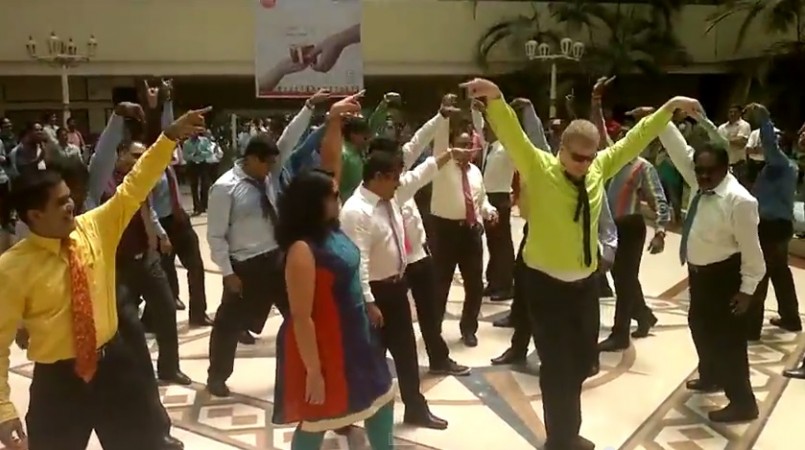 Around 30 CEOs of reputed companies incubated in the Thiruvananthapuram Technopark, on Tuesday proved that they can not only hold on to their meeting rooms and conference halls, but also the dance stage.
According to Tehcnopark Today, the group of CEOs in Kerala took part in a flash mob, surprising their employees and others, as a part of Daan Utsav, the country's annual Festival of Giving.
Setting a brilliant example for CEOs everywhere, these 30 IT bosses took to the dance floor to raise awareness and money for the underprivileged.
Daan Utsav, first launched in 2009, is celebrated every year during 2-8 October, and brings together Indians from all walks of life, to celebrate "giving".
"We wanted to attract the attention of all of the 45,000 plus employees in Technopark, to this noble cause, which is the reason the CEOs themselves hit the dance floor. I hope the message of 'Joy of Giving' is embraced by the larger society too," said Girish Babu, CEO of Technopark.
Not only did they dance for the brilliant charity, they also took part in a novel fundraising activity called "CEO bashing", wherein the employees took potshots at their bosses using water-soaked sponges. There were plenty of takers for the ₹100-a-throw offer, which will go to charity.
Anoop Ambike, Secretary of Gtech says that the response to all the activities have been overwhelming and it shows that those in the IT industry are ready to support the needy.
Not only do the CEOs get full marks for the drive behind the flash mob, they absolutely nailed the choreography, considering they have been running a company while rehearsing.
The CEOs came onto the floor one by one, followed by a team of their colleagues and broke out their dance moves amid rousing cheers from the large crowd of employees who cheered and egged them on, at the atrium in Bhavani building.
The medley of several popular songs included the Hindi song "Batameeze Dil", Tamil song "Ilamai Itho Itho", Malayalam song "Oru Madhurakkinavin Lahariyil", and the extremely danceable "Lungi Dance".
Stalinrajindian posted "Technopark CEOs on Dance Floor" on his YouTube channel with the caption, "First time in the history of Technopark, A flash mob conducted by company CEOs in the Bhavani Atrium, As part of #DaanUtasv".