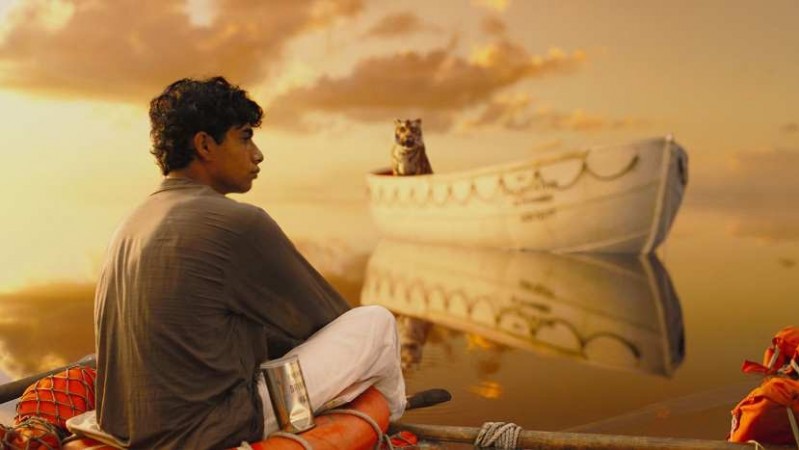 "Life of Pi," directed by Oscar award-winning director Ang Lee, is an adaptation of Yann Martel's bestseller 2001 fantasy adventure novel of the same name. The movie tells the story of a 16-year-old Indian boy named Piscine Molitor "Pi" Patel (Suraj Sharma) who has been lost at sea for 227 days.
The American action adventure drama 3D movie has impressed film critics with its story and extraordinary visual effects.
Here is what critics have to say about the movie:
Resham Sengar of Zee News said: "Whether you have or have not read the book, watching the highly impressive 3D movie is absolutely once-in-a-lifetime experience.
"The kind of work Irrfan Khan has done is what Irrfan Khan does in all his movies. The actor knows his craft well, and it clearly shows in the way he has played the role of the narrator. It is a delight to watch the evergreen Tabu playing a doting South Indian mother when she encourages her son Pi to find his own path instead of blindly embracing rational thinking like his pushy and stern father.
"Overall, the elements weaved into the concept of the movie are just like the clear pool water after which Pi was named, and it is up to oneself to decide what lesson comes out of 'Life of Pi!"
Nikhil Taneja of FirstPost said: "Twenty minutes into the movie, Life of Pi creates within you a strange feeling of calm, as the striking visuals and the powerful storytelling take over. You are then not just a viewer of the film, you are a part of the film's wondrous, expansive world; a world in which you are Pi (Suraj Sharma), the 16-year-old boy stranded on a life boat in the middle of the ocean after a shipwreck, and a world in which you are also the carnivore, the majestic Tiger, who is stranded in the same boat with Pi, the only relatable part left of the habitat that once surrounded it.
"Because this is not a movie that will make you believe in God. It is a movie that will make you believe in Ang Lee."
David Germain of Associated Press said: "Life of Pi is one of those lyrical, internalized novels that should have no business working on the screen. Quite possibly, it wouldn't have worked if anyone but Ang Lee had adapted it.
"The filmmaker who turned martial arts into a poetic blockbuster for Western audiences with Crouching Tiger, Hidden Dragon and made gay cowboys mainstream fare with Brokeback Mountain has crafted one of the finest entries in his eclectic resume in Life of Pi, a gorgeous, ruminative film that is soulfully, provocatively entertaining.
"Pi's story may not, as one character states, make you believe in God. But you may leave the theater more open to the possibilities of higher things in the life of Pi, and in your own."
Betsy Sharkey of Los Angeles Times said: "Ang Lee's Life of Pi asks that we take a leap of faith along with a boy named Pi Patel and a Bengal tiger named Richard Parker as an angry ocean and the ironies of fate set them adrift. Their struggle for survival is as elegant as it is epic with the director creating a grand adventure so cinematically bold, and a spiritual voyage so quietly profound, that if not for the risk to the castaways, you might wish their passage from India would never end. There are always moral crosscurrents in Lee's most provocative work, but so magical and mystical is this parable, it's as if the filmmaker has found the philosopher's stone.
"The film is consistently beautiful, but it is during Pi's months at sea that it turns stunning. Sometimes it is in the simple wonder of a school of flying fish or a breaching whale. At others, it is the sense of an infinite presence in a star-drenched midnight sky or an ethereal underwater world illuminated by phosphorescence."