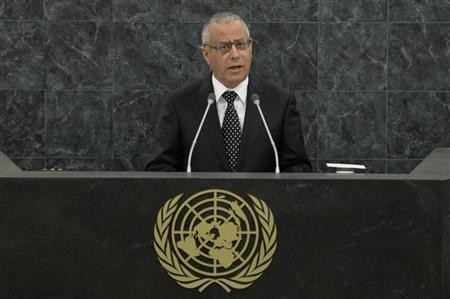 Libya's Prime Minister Ali Zeidan has been kidnapped by gunmen in the capital Tripoli on Thursday.
The circumstances in which the prime minster was taken by the militants are unclear. A source in Zeidan's media office told BBC that Zeidan was kidnapped from his residence in Tripoli and taken to an unknown destination.
Security guards at the Corinthia Hotel in Tripoli told Reuters that the Libyan leader was abducted by militants. One of the guards described it as an 'arrest'.
Another sourced told the BBC that Zeidan was arrested by anti-crime department militia.
Libya's justice minister said that Zeidan had been 'kidnapped'. A video still by Al-Arabiya television channel showed Zeidan in a grey shirt undone at the collar and surrounded by several men in civilian clothes.
It has been two years since the revolution overthrew Libya's ex-leader Colonel Muammar Gaddafi. Until now, the central government is struggling to contain tribal militias and Islamist extremist outfits who control some parts of the country.
Last weekend, a top al Qaeda suspect was captured in a raid by the US military in Tripoli, angering Islamist militant groups.
In an interview with the BBC this week, Zeidan had sought aid from the US to tackle the rebel militants in the country.