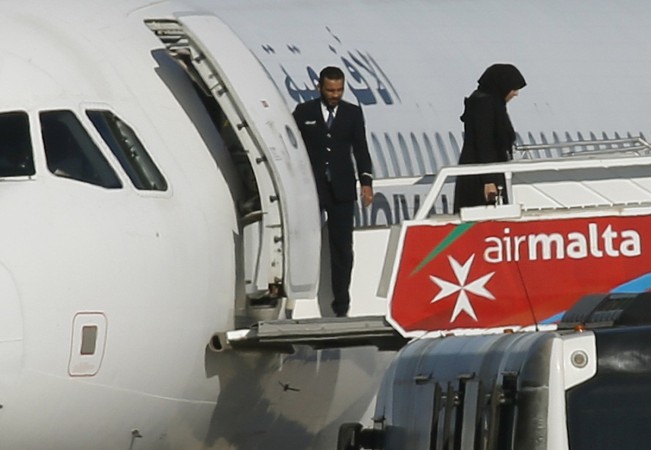 High drama was witnessed at the Malta International Airport on Friday when an internal flight from Libya was diverted there with 118 people on board, with a "possible hijack" situation at hand. The Maltese authorities, however, managed to defuse the situation, coaxing the two hijackers to release all the other 109 passengers on board, and later managed to get the crew members out as well. The hijackers, who were demanding asylum, were later arrested.
The situation began on Friday morning when two hijackers — believed to be loyalists of deceased Libyan dictator Muammar Gaddafi — diverted the Afriqiyah Airways flight to the Malta International Airport and parked it there. The flight had originated in Sebha and was headed to Tripoli in Libya when it was hijacked.
The hijackers — one of whom claimed to have a hand grenade and even threatened to blow up the plane — at some point informed the Maltese authorities that they would let all the other passengers go, but detain the crew members if their demands were met. It later emerged that they were demanding asylum in Malta.
Soon after their initial communication with the Maltese authorities, armed forces from the country surrounded the aeroplane, and negotiations began for the passengers — 80 men, 28 women and one infant — on board. Maltese Prime Minister Joseph Muscat live-tweeted the entire episode, providing first-hand information on who was being released.
The hijackers initially let 25 people, including women and the child, go. Then, they let out another 40 passengers, taking the number of those released to 45. Then they released the last of the 44 passengers on board, and all 109 flyers were whisked away to safety after that.
At one point during the negotiations and the releasing of the passengers, the hijackers also unfurled a pro-Gaddafi green flag at the doorway of the aircraft. It would later emerge that they were asking for asylum in Malta.
As negotiations ended, the hijackers let go of the seven crew members, and surrendered to the Maltese authorities. Muscat wrote on Twitter that they were "searched and taken in custody." It is not known whether their demand was met and they received asylum in Malta. It is also not known if they had any other demands.