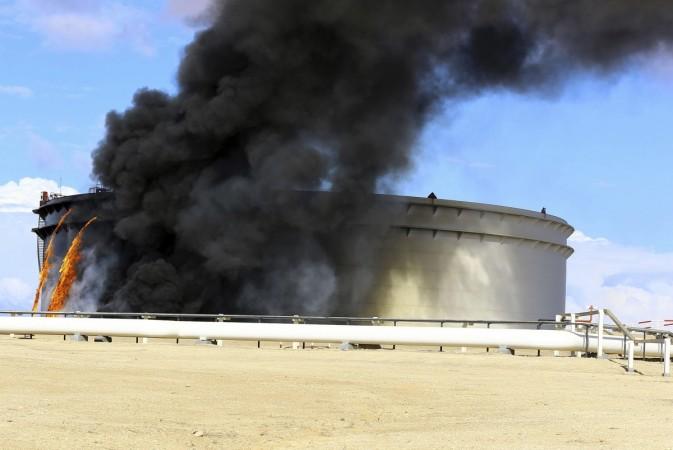 At least 19 Libyan soldiers were killed in clashes with Islamist factions allied to competing governments in eastern Libya, where an oil tank was also hit by a rocket in separate fighting, officials have confirmed.
The tank on the eastern Libyan oil of port Es Sider was set on fire as clashes were reported from Sirte, a city west of Es Sider, Reuters reported citing residents.
Es Sider and its adjacent Ras Lanuf terminal have been closed after a forced allied to a rival government in Tripoli moved east trying to overthrow the power there. It can be noted that former rebels who helped topple Muammar Gaddafi in 2011 are now fighting for power as well as demanding a share of oil reserves in the country.
An oil ministry official was quoted by Al Arabiya as saying that the tank was still on fire until earlier and smoke could be seen on pictures posted on social media. No more information was made available.
Libya presently has two governments and parliaments. A group called Libya Dawn seized the capital in August and expelled the rival faction, installing its own prime minister. The recognised premier, Abdullah al-Thinni, is currently operating out of the east with the elected House of Representatives.
Thinni has accused Libya Down of using Islamists forces to consolidate its powers. On the other hand, the Tripoli-based government says Thinni's forces have allied themselves to former Gaddafi officials like ex-general Khalifa Haftar.