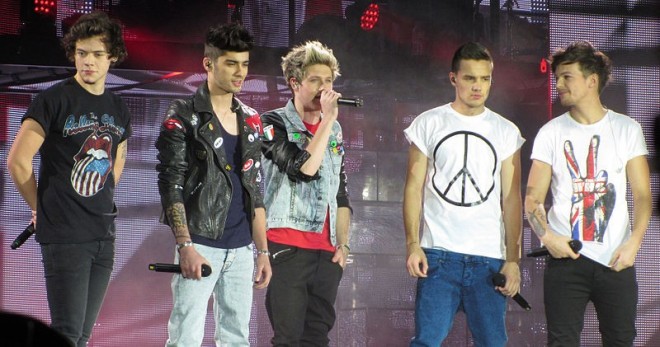 Liam Payne and Zayn Malik, members of the British boyband "One Direction", have managed to cause quite a stir, after a photograph of them engaging in a faux oral sex session hit the Internet.
The photograph is taken in such an angle that it appears as if Payne is simulating the act while Malik is standing.
The photograph, which was taken at one of the band's concerts, was uploaded on Twitter by a fan and a number of One Directioners have come out to defend their beloved singers.
Jokes about the picture have also been aplenty.
"I actually thought that liam was giving zayn a bl*wjob oops. don't judge!" wrote one fan, while another added: "'Liam Payne & Zayn Malik Simulate Oral Sex On Stage' seems to me that when i die these words will be written on my stone."
This news was followed by another report that said that Payne has ended his relationship with longtime girlfriend Sophia Smith.
"Can't be without you," Payne wrote cryptically on Twitter. "Worse thing I ever did was let you go...No all I got left is the thought of you."
It couldn't have been the lyrics of one of their upcoming songs as the message was tweeted at 3 a.m. But it is unlikely that Smith would have seen the message as she is not a regular on social networking sites.
"I don't really think she looks at it too much to be fair, because, well, I kind of told her not to anyways," the British singer had previously said of Smith's Twitter activity, according to E!Online. "There's just stuff out there that you just don't want to see."
Payne's representative has declined to comment on the break up rumors.
One Direction is currently on their "Where We Are" tour, which started last month. The tour will end in October after the boys perform in 69 locations across South and North America and Europe.
[ED:VS]