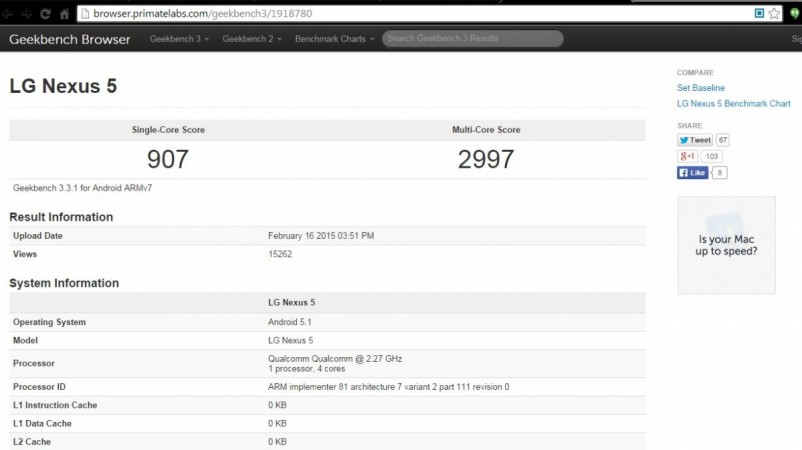 LG's 2013 flagship smartphone Nexus 5 has been reportedly spotted running the latest Android 5.1 Lollipop update.
A couple of months ago, we had reported that Android 5.1 Lollipop is likely to get released in February, well it's now about to turn truth for Nexus 5 soon.
[Read more: Google To Roll-Out Android 5.1 Update In Q1 2015]
Technology blog TechTastic while browsing through the popular smartphone performance testing site, GeekBench, came across LG Nexus 5 score sheet wherein the device was tested on Android 5.1 Lollipop software.
It is learnt that the new v5.1 software is just a minor update, which is expected to fix some glitches. The glitches were discovered by early adopters of bug-ridden v5.0 firmware that is currently being released to select top-tier brands since November 2014.
Some key improvements expected to feature in Android 5.1 Lollipop include:
Inclusion of the silent mode which was sorely missed in Android v5.0
Improvements to the RAM management
Enhanced battery management
General improvements in system stability
Fixes bug causing sudden app closures
Resolves Ok Google function
Addresses notification problems
Fixes problems with wireless connections
Upgrade to the Material Design color palette
Enhancement to performance and other minor tweaks to improve UI
It is learnt that the new Android 5.1 Lollipop is expected to be rolled out to Google's flagship Android One series smartphones and later to Nexus series devices.
The recently released Android One phones in Indonesia and the Philippines are already shipping with the latest 5.1 Lollipop OS.