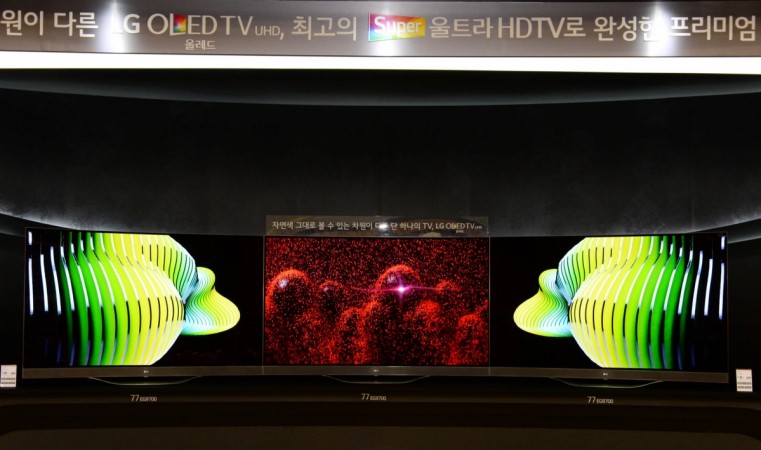 LG Electronics has unveiled their 2015 global TV line-up in Seoul, focusing on the premium TV market. With its Dual Premium Strategy, LG is expecting to spearhead the global premium TV market with OLED TVs while simultaneously expanding the size of the premium TV segment to create more opportunities for its new PRIME UHD TVs.
In the series LG unveiled a slate of new OLED TV units, including 55, 65, and 77-inch models with curved and flat screens. In the new line-up of OLED TVs, LG asserted each of them will incorporate several advanced display features, including LG's proprietary WRGB OLED technology. This ensures that images are rendered with perfect blacks, striking colours and infinite contrast ratio.
LG has also launched Prime UHD TV, which is a tier above the company's Ultra HD TV, boasts features such as ColorPrime technology, Ultra Luminance, 4K In-Plane Switching (IPS) panel and Prime Mastering Engine to offer a truly premium, cinema-like experience.
LG's ColorPrime technology magnifies the range of colours that can be displayed on screen by utilising different LED phosphor colours, creating greater image depth and realism. Ultra Luminance technology continuously analyses the brightest and darkest parts of the displayed content in order to improve brightness and resolution. Equipped with LG's 4K IPS panel, the TV renders detailed images at extremely wide viewing angles.
In addition, LG's Prime UHD TV (Model 55UF9500) comes with the stunningly thin 8.5mm UltraSlim Design display in an industry where competing displays are between 40 and 50mm in depth. LG's integrated Auditorium Stand matches the metallic finish on the bezel around the screen. The stand also complements the centralised Harman/Kardon sound system by functioning as a sound reflector.
All the TV's will run on LG's webOS 2.0 operating system. LG claims the new webOS 2.0 Smart TV platform is an upgraded version of the company's original webOS user interface. WebOS was originally designed under the "Make TV Simple Again" concept in an effort to counter the growing frustration with overly complex TV menu systems. Smart TVs equipped with webOS have been forecast to top one million in unit sales within the first half of 2015. All the TV's will be available in overseas markets by the end of March.