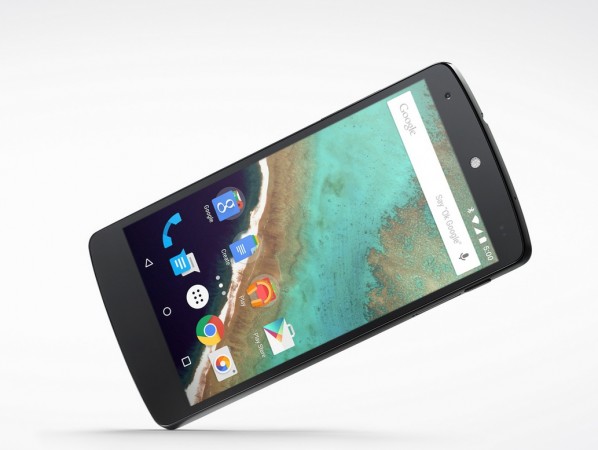 New specification-list of the Google Nexus 5 (2015) has leaked online giving us a glimpse of LG's forthcoming vanilla Android smartphone.
Technology blog Android Police citing reliable sources has claimed that new Google Nexus 5 (2015) will be sub-flagship smartphone and will boast 5.2-inch full HD (1920x1080p) display, not QHD (2560x1440p) resolution as previously reported.
Hearing the news that LG Nexus 5 (2015) will be featuring full HD instead of current industry standard QHD display, some might find it hard to believe the authenticity of the report, but we would like to point out that users will not lose out much in reality.
Many research have shown that human eye cannot differentiate resolution beyond HD (1280x720p) that too on small screen of a smartphone. Moreover, QHD based display are known to be most power-hogging component of the phone. Using full HD might help conserving more power so that the device lasts little longer. Even Android Marshmallow OS is said to come with power-saving features.
So, we believe this is a smart move by the company considering the fact that LG's 2013 Nexus 5 model, despite featuring top-notch hardware, got panned for its low-battery capacity. It came with 2300 mAh battery and now that the new 2015 model is said feature 2700 mAh (more than Samsung Galaxy S6: 2550 mAh) cell, the LG phone is certain to run the whole day under mixed-usage.
The tipster also adds that LG device will be powered by the Qualcomm Snapdragon 808 processor backed by 3GB RAM, 16GB/32GB inbuilt storage, Type-C USB port and a 2700 mAh battery. It is also expected to house 12.3mp main camera on the rear-side and 5mp snapper on the front.
Read more: Huawei Nexus 2015 Specifications Leaked Online; Tipped to Feature Metal Body with Fingerprint sensor
Except the screen resolution, all other features are line with the previous reports. If all things fall in place, the new LG Nexus 5 (2015) with new Android 6.0 Marshmallow OS will hit Google Play store by the end of September.