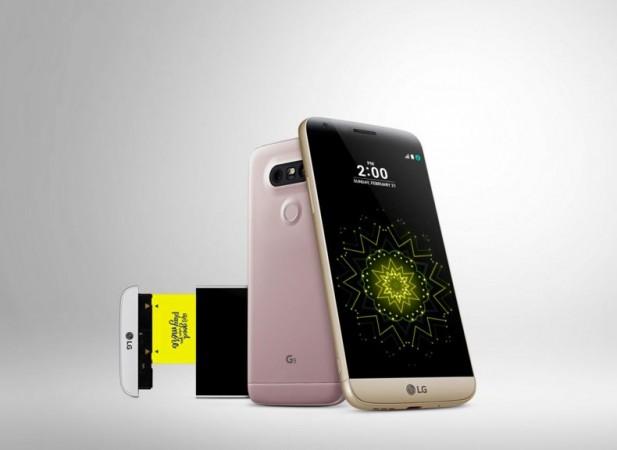 LG G5 has received the approval from the Federal Communications Commission (FCC), paving way for its release in the United States. The flagship device has been cleared for four major carriers in the US -- Verizon, T-Mobile, AT&T and Sprint.
The South Korean electronics giant unveiled the G5 handset at the Mobile World Congress Feb. 21. Samsung's flagship devices, the Galaxy S7 and the Galaxy S7 edge, too were announced on the same day, but they are already available in the stores. Now, LG is gearing up to launch its flagship device globally March 31.
Variants and models of LG G5 for U.S. carrier that have been cleared by the FCC are AT & T – LG H820, T-Mobile – LG H830, Verizon Wireless – LG VS987, and Sprint – LG LS992, according to MyLGPhones. It went on to say that U.S. Cellular – LG US992 is yet to pass the FCC certification.
It was earlier reported that U.S. Cellular start pre-orders of LG G5 March 28 before launching on April 1. There were also reports that the device would come to Canada April 8.
LG G5 sports a 5.3-inch QHD display with screen resolution of 2,560x1,440 pixels (554 ppi pixel density). Under the hood, it has a Qualcomm Snapdragon 820 processor, Android 6.0 Marshmallow operating system, a 32GB internal memory (expandable up to 2TB via microSD card), a 4GB RAM and a 2,800mAh battery with Quick Charge 3.0 technology and Low Power Location Estimation (LPLE) Technology.
The device boasts of dual rear cameras -- 16MP with f/1.8 aperture and 8MP with f/2.4 aperture. The camera comes with with a 78-degree lens, a 135-degree wide angle lens, dual-tone LED flash, laser auto focus and OIS (Optical Image Stabilisation) features. It also has an 8MP front-snapper.