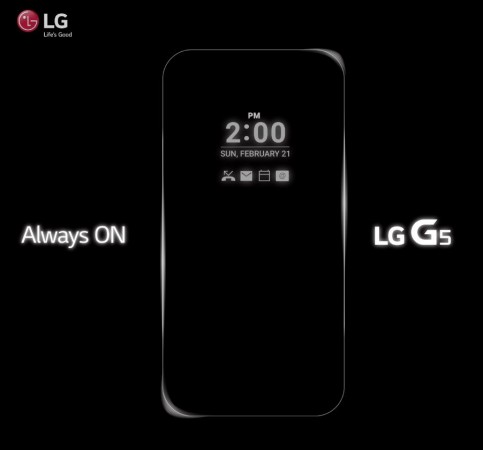 South Korean consumer electronics giant LG is hosting Sunday, Feb. 21, the launch event of its flagship smartphone G5 at Barcelona at 2 p.m. CET (18:30 IST), Barcelona local time.
LG, in its bid to cheer global fans, arranged for live-streaming of the event online so people can watch the unveiling of the new G5 on their smart devices.
Highlights of the LG launch event:
Unlike other companies, LG has already confirmed it will unveil the G5, but what we don't know is what features it will come packed with. The company is also expected to reveal the device's price and when it will hit the stores.
LG G5: What we know so far
From what we have gathered, LG G5 will sport a 5.6-inch QHD (2560x1440p) display and come packed with Snapdragon 820 quad-core processor, 3GB RAM, 32GB inbuilt memory and a 2,800mAh battery.
Also read: LG G5 wrap-up: Expected price, specs and release details
LG fans can catch the live action on LG's official websites HERE [Get more details on LG G5 HERE].
LG G5 launch live coverage time zone details:
| | | |
| --- | --- | --- |
| City | Time | Time-Zone |
| Barcelona (Spain) | Sunday, Feb. 21, 2016, 14:00:00 | CET |
| San Francisco (U.S.A. – California) | Sunday, Feb. 21, 2016, 05:00:00 | PST |
| New York (U.S.A. - New York) | Sunday, Feb. 21, 2016, 08:00:00 | EST |
| Ottawa (Canada- Ontario) | Sunday, Feb. 21, 2016, 08:00:00 | EST |
| Rio de Janeiro (Brazil – Rio de Janeiro) | Sunday, Feb. 21, 2016, 10:00:00 | BRT |
| London (United Kingdom – England) | Sunday, Feb. 21, 2016, 13:00:00 | GMT |
| Paris (France) | Sunday, Feb. 21, 2016, 14:00:00 | CET |
| Berlin (Germany) | Sunday, Feb. 21, 2016, 14:00:00 | CET |
| Amsterdam (Netherlands) | Sunday, Feb. 21, 2016, 14:00:00 | CET |
| Johannesburg (South Africa) | Sunday, Feb. 21, 2016, 15:00:00 | SAST |
| Moscow (Russia) | Sunday, Feb. 21, 2016, 16:00:00 | MSK |
| Abu Dhabi (United Arab Emirates - Abu Dhabi) | Sunday, Feb. 21, 2016, 17:00:00 | GST |
| Islamabad (Pakistan) | Sunday, Feb. 21, 2016, 18:00:00 | PKT |
| New Delhi (India - Delhi) | Sunday, Feb. 21, 2016, 18:30:00 | IST |
| Beijing (China - Beijing Municipality) | Sunday, Feb. 21, 2016, 21:00:00 | CST |
| Hong Kong (Hong Kong) | Sunday, Feb. 21, 2016, 21:00:00 | HKT |
| Singapore (Singapore) | Sunday, Feb. 21, 2016, 21:00:00 | SGT |
| Taipei (Taiwan) | Sunday, Feb. 21, 2016, 21:00:00 | CST |
| Indonesia (Jakarta) | Sunday, Feb. 21, 2016, 20:00:00 | WIB |
| Seoul (South Korea) | Sunday, Feb. 21, 2016, 22:00:00 | KST |
| Tokyo (Japan) | Sunday, Feb. 21, 2016, 22:00:00 | JST |
| Canberra (Australia - Australian Capital Territory) | Sunday, Feb. 22, 2016, 00:00:00 | AEDT |