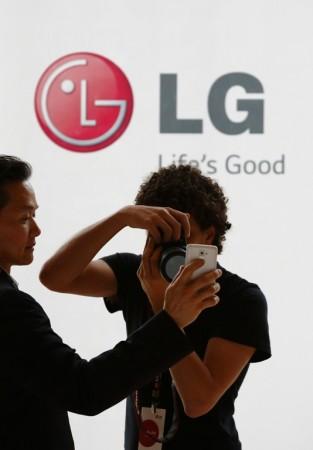 Reports suggest that LG is working on its next flagship. After the huge success of LG G3, the tech giant is looking to continue its flagship race in the competitive smartphone market. Given the excitement behind LG's G2 and G3 smartphones, it will not be surprising to see a similar hype surround the development of G4.
The G4 news is not official yet but the leaked reports outline LG's plans for the unannounced smartphone. Based on the rumors around the web, here's a summed up list of features likely to be onboard the G4.
Display and Design
LG has earned a reputable image in the smartphone industry with its cutting edge designs. Continuing the same momentum, we can expect the G4 design to be extraordinary.
LG already has some concepts, as it recently showed a 5.3-inch panel with 0.7mm bezel. This will give more room for display and make the bezel narrower than the thickness of a credit card. LG calls this the Neo Edge technology, Pocket-Lint reports.
Based on the current reports, LG will likely pack a 2K display with 1440x2560 pixels resolution, like in the G3. As the company is already working on 2K and 4K or UHD panels, it is unlikely that LG will change its plans to compete against Samsung, which is betting on Sharp Aquos Crystal bezelless display for its future phones.
LG will likely adopt the metal-unibody concept for its G4, giving it IP67 waterproof rating.
Camera
Smartphone cameras are highly important for a company to attract its audience. Besides the phone's speed and design, extensive camera capabilities can be an added advantage in selling the phones. LG G3's camera was undoubtedly impressive, so the company will borrow its laser auto focus and optical image stabilization for the next flagship. In addition, LG will upgrade its video recording capabilities to 4K at 60fps.
It is also expected that the front camera will get higher sensors, at least 5-megapixel to cater to the selfie needs.
Processor
LG will choose the latest processor for its G4, with reports suggesting a 64-bit chip, which will hit the mainstream in 2015. The band connectivity will also boost if LG chooses Qualcomm's Snapdragon 810 chips with Cat 6 LTE to deliver 300Mbps. To match the powerful processor, LG will house a dual channel RAM, which means at least 4GB RAM space on board.
Battery
By choosing all high-end, power draining features for the G4, LG must boost the battery. G3's battery life lasts a day so G4 has to do better or equal.
Release Date and Pricing
No date has been confirmed yet. LG unveiled its G3 smartphone in May and released it in June this year. Reports are suggesting that LG will use the Mobile World Congress event to show off its new flagship in March 2015.
LG is also expected to continue its reasonable pricing strategy to attract more buyers. The unlocked version of the G4 is expected to range between $650 and $700, much like the HTC One M8 but cheaper than Apple iPhone 6 and Galaxy Note 4 and Edge, iKnowtoday.com reports.