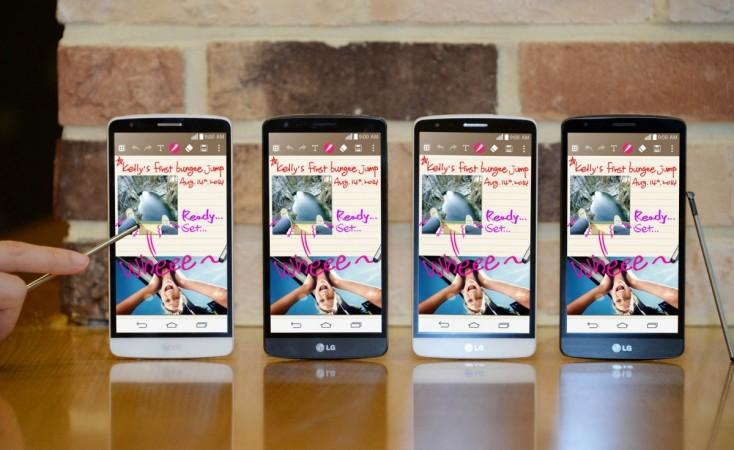 The LG G4 is back in limelight with much-hyped devices like the Samsung Galaxy S6 and HTC One M9 having being unveiled. It was earlier reported that the flagship smartphone would be announced at the Mobile World Congress (MWC 2015) but it didn't happen, and now it's been learned that it would see the light of day in April or May.
LG's mobile chief Cho Ju-no had revealed at the just concluded MWC that the company would launch its next-generation device in the second quarter of 2015 but didn't reveal the release date.
Meanwhile, the LG G4 is expected to come with several feature upgrades over its predecessor. It was reported that the South Korean electronics giant is planning to introduce fingerprint sensor in its current flagship device, the G3 but as pulled out at the eleventh hour. Now, report has emerged that its upcoming device would have fingerprint feature.
"LG Electronics has recently decided to deploy a fingerprint sensor on its next flagship smartphone and the scanner will be placed at the back of the device," an industry source close to the matter told Korea Herald (via G4Games).
The source went on to claim that the sensor would be "could be embedded in the power button on the back" but LG is yet to confirm whether its new device will have fingerprint feature.
"LG has been left behind in the race for fintech (portmanteau of finance and technology) as it has continued to postpone the adoption of fingerprint technology," said another source.
"With more global smartphone-makers incorporating a fingerprint reader, which is a security measure for mobile payments, LG may have had few options left but to deploy the authentication sensor for its next marquee smartphone," he added.
The LG G4 is expected to come with features like 5.7 inch HD –IPS +LCD display, Qualcomm Snapdragon 801/802/805/808 that clocks at 3GHz, Android 5.0 Lollipop, 3/4GB RAM with microSD card up to 128GB, and 15 to 17MP main camera and 3 to 4MP front snapper, according to The REM.
However, iKnow Today reported that the device might have features like 5.5-inch or 5.9-inch display with 2/4K screen resolution, Qualcomm Snapdragon 808 or 810 processor and a 3500 mAH battery.