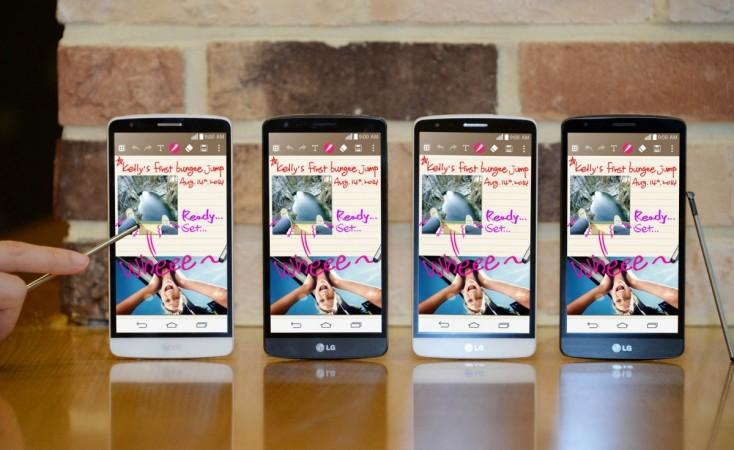 It was reported a few weeks ago that the LG G4 might feature a new stylus called G Pen in the line of Samsung's S-Pen stylus seen in its Note series, but latest report suggested that the plan could have been killed.
A report by Phandroid had earlier claimed that the upcoming LG G4 might have G Pen Stylus, which could be an upgraded version of the stylus used in the LG G3, but a source told My LG Phones said that the South Korean electronics giant is "working on a mid-range device named LG G4 Stylus" similar to the "LG G3 Stylus."
LG has filed trademarks application for "G4 Stylus" at the United States Patent and Trademark Office, hinting that it might launch a device named G4 Stylus, according to a report by My LG Phones.
It may be recalled that G Pen stylus feature was poorly received in G3 despite its success in the smartphone market. So, there are possibilities of the recent "G4 Stylus" trademarks application being mistaken for Pen stylus though one can't rule out the flagship device coming with the feature.
Meanwhile, the LG G4 is expected to be unveiled in the first half of 2015, perhaps in the month of May. There are also reports that it would be announced at the Mobile World Congress (MWC 2015) to be held from 2 to 5 March in Barcelona, but it is very unlikely to happen.
The device is expected to have features like 5.7 inch HD –IPS +LCD display, 3/4GB RAM with microSD card up to 128GB, Qualcomm Snapdragon 801/802/805/808 that clocks at 3GHz, Android 5.0 Lollipop, and 15 to 17MP main camera and 3 to 4MP front snapper, according to a report by The REM.
However, iKnow Today claimed in a report that the device might come with a 5.5-inch or 5.9-inch display with 2/4K screen resolution, Qualcomm Snapdragon 808 or 810, and 3500 mAH battery. It went on to claim that G4 could be priced around $650-$700.