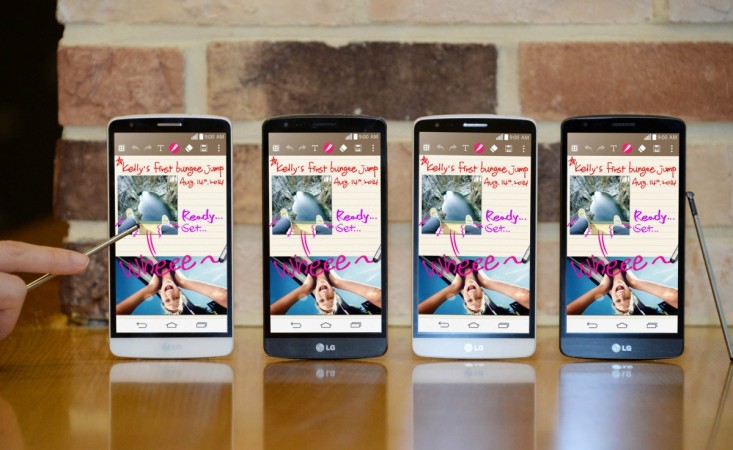 Even as hype around the LG G4 smartphone is gaining momentum with its release date drawing closer, a report has surfaced that the South Korean electronics giant is planning to come up with LG G4 Note device. The large screen device will have to compete with the upcoming Samsung Galaxy Note 5 and the successor of Apple iPhone 6 Plus, which is likely to be called iPhone 6s Plus, if the news turns out true.
LG Electronics is planning to give companies like Samsung and Apple a run for their money in the high-end large screen smartphone market by releasing a new phablet, called the G4 Note this year, sources told Korea Herald (via 9t05Google).
The report went on to claim that LG has "already applied for a trademark of the phablet at the Korean patent office last month."
It may be recalled that LG's mobile chief Cho Ju-no had said at the recently concluded Mobile World Congress (MWC 2015) that the company is planning to release two premium devices this year, one in the third quarter and the other in the second half of the year. There is high possibility that one of the devices Cho talked about could be referred to the alleged LG G4 Note.
However, specifications of the device is not known yet but it won't come as a surprise if it sports a 6-inch display, as the LG G4 smartphone is also expected to come with a 5.5-inch screen size.
The device will have to take on the Samsung Galaxy Note 5 and the iPhone 6s Plus, as they are also expected to be launched in the third quarter of this year. The Galaxy Note 5 is expected to have features like 5.9-inch or 6-inch Ultra HD 4K Display, Exynos 7420 SoC processor, 4GB RAM, 18MP camera, retina scanner, fingerprint scanner, and wireless charging.
Not much is known about the iPhone 6S Plus too. Apple Insider has reported citing a source familiar with Apple's plans that the company is planning to release the iPhone 6s and perhaps the iPhone 6S Plus with bigger screen and with Apple SIM (universal SIM card) pre-installed.
Interestingly, LG G4 Note, Samsung Galaxy Note 5 and Apple iPhone 6s Plus could hit the stores at around the same time – end of 2015.