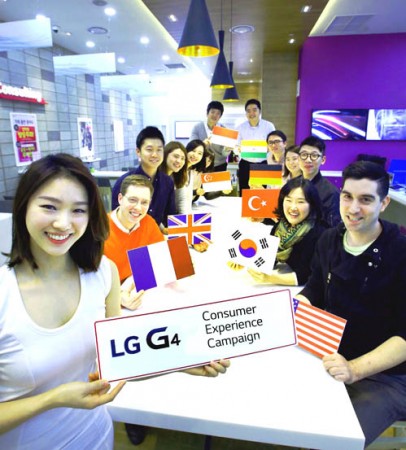 The highly anticipated fourth generation G series smartphone LG G4 is all set to finally see the light of the day on 28 April.
For weeks, the internet was abuzz with rumours of LG G4's features and it has seemingly reached a crescendo with the release of a series of enticing teaser videos by LG, giving a glimpse of what is in store for fans this Tuesday.
To help get a better perspective on G4's key specifications, we leafed through numerous reports and put together a list of probable key features which are likely to make the cut in the LG's 2015 marquee phone.
LG G4-Display and Build:
Going by the latest teaser, LG G4 is almost certain to keep the G3's design language, wherein the power button is fitted on the rear-side for easy access, but on the front-side, LG, which makes its own displays for televisions, has promised to incorporate top-of-the-line screen in the upcoming smartphone.
The new LG G4 will be the industry's first QHD (2560x1220p) based smartphone to boast IPS Quantum Display technology. It is said to be 25% brighter and 20% wider colour-range than conventional QHD screens seen in Galaxy S6 (S6 Edge) and HTC One M9+.
The new LG G4 is expected to be made available in metallic gray, ceramic white, shiny gold and genuine leather (with exquisite threaded stitch) options.
LG G4-Processor, RAM and storage:
Word on the street is that that the LG G4 will house Snapdragon 808 series Hexa-Core SoC (System on Chip) with Adreno 418 graphics engine, not the top-of-the-line 810 series Octa-core processor seen in the company's flagship phablet G Flex 2.
[Read more: LG Sends out of Invites for Event on 28 April; G4 to house Snapdragon 808 SoC, Not 810 series]
In January, when reports of Samsung ditching Snapdragon 810 over heating issues hit the headline in the media, company's vice president, Woo Ram-chan, had claimed that G Flex 2 which houses the same Qualcomm chipset faced no problems during the tests conducted by the company. After the reassurance from the company, many believed, LG to incorporate the same processor in G4 too.
[Read more: G Flex 2 Set for Release Next Week; LG Allays Concerns on Snapdragon 810 SoC Over-Heating Issues]
Now if the LG G4 spotted on the GFX benchmarking site is to be believed, the recurrence of heating issue in 810 might have forced the company to use more stable 808 chipset.
Snapdragon 808 processor is said to be backed by sumptuous 3GB RAM and 32GB inbuilt memory.
LG G4-Mobile Operating Systems:
It is learnt that LG G4 will ship with the Google's latest Android 5.1 Lollipop out-the-box.
LG G4 -Camera details:
Besides LG G4's display & build features, LG is very upbeat on the photo-capturing capabilities of the phone.
The company is very open about the G4's camera. Few days back, it released an official video hosted by world renowned - landscape, travel and humanitarian - photographer Colby Brown explaining the intricacies of LG G4 camera.
LG G4 is said to be the world's first smartphone to feature a camera (16mp) with f/1.8 aperture, shutter speed option, slow synch flash option, lens brightness options, ISO, white balance (WB), RAW or JPEG, Exposure (EV), 3 shooting modes, (manual, normal and simple), fastest auto-focus feature and OIS (Optical Image Stabilization) v2.0. On the front side, it said to house feature-rich 7mp camera with 3264x1836p resolution clicking ability.
Check out the Official LG G4 teaser detailing the camera features below:
LG G4 Release details:
The company has already confirmed that new LG G4 will hit stores in the home market South Korea on 29 April, 24 hours after the smartphone's unveiling. More details on LG G4's availability in global regions including India are expected to be announced on 28 April.
LG G4 Price details:
According to technology website PC Pro, the upcoming LG G4 is expected to be priced around £7000 (estimated to cost $1060/€978/₹67,800).
Speculated Specifications of LG G4:
Model
LG G4 (F500X)
Display
5.5-inch QHD (2560x1440p) screen with IPS Quantum Display technologyPixel density: 534 ppi (pixels per inch)
OS
Android 5.1 Lollipop
Processor
1.8GHz Qualcomm Snapdragon 808 series Hexa-core CPU
GPU
Adreno 418
RAM
3GB
Storage
32GB
Camera

Main: 16.0-megapixel camera with f/1.8 aperture, f/1.8 aperture, Shutter speed option, Slow synch flash option, lens Brightness options, ISO, White balance (WB), RAW or JPEG, Exposure (EV), 3 shooting modes, (Manual, Normal and Simple) , fastest auto-focus feature and OIS (Optical Image Stabilization) v2.0
Front: 7.0-megapixel camera with 3264 x1836

Add-ons
Single-SIM slot, Bluetooth, GPS, Wi-Fi, NFC, and other standard smartphone sensors