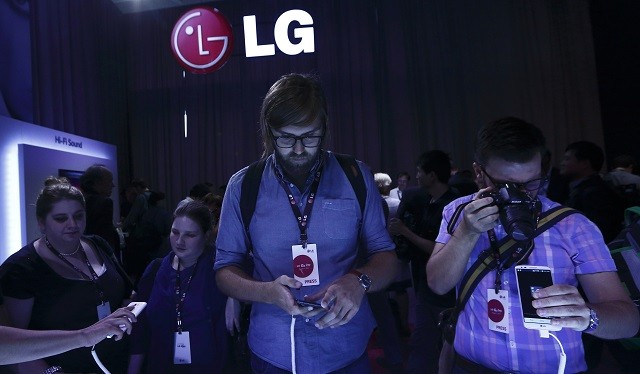 With just a few hours left before the most awaited LG G3 launch in multiple venues across the globe this Tuesday (27 May), the buzz around the next generation flagship smartphone has seemingly reached a fever pitch with the release of the short video clips giving a glimpse on the marquee features expected in the upcoming phone.
LG's serial teasers have sparked-off lot of excitement among the tech enthusiasts and fans alike. To help get a better perspective on the LG G3 specifications, we have leafed through multiple reports and have put together a list of probable key features which are likely to make the cut.
Design and Display:
Following the announcement of the LG G3's launch date earlier this month, company shed secrecy over its flagship phone by showing the fans a sneak peak on the phone sans the specifications via official trailer video.
Going by the clip, it has been well established that LG G3 will keep the design language of its predecessor such as power button sandwiched between the volume rockers on the rear side, but the new phone which is more ergonomically refined with curvier corners and shiny rear-side hints that it will likely flaunt a metal shell.
If observed more closely in the video, we can see water-sprinkling at the very beginning of the video, hinting that the device might even boast of water-repellant body and there is also a close-up shot of the phone's main camera on the rear side, so we can expect something special in that department as well. [More details on the camera are shared down the article].
Check out the official LG G3 video teaser here:
In terms display specifications, many reports from South Korea have indicated that LG G3 is most certainly to ship with a big 5.5-inch Quad HD (aka 2K; 2560x1440p) IPS display.
Even the official teaser videos released by LG Mobile KR (Korea) and LG Global confirms the 5.5-inch based screen with 2K resolution in the upcoming G3. (Video-1, Video-2)
Processor, RAM and Storage:
After Apple launched iPhone 5S (in late 2013) with 64-bit architecture based A8 chipset, many believed that this year will see the other competitors to adopt similar strategy to launch their flagship phones with advanced chipset.
Well, we are already in mid-2014, and none of the top OEMs (Original Equipment Manufacturers) have shown any inclination towards 64-bit chipset architecture and now reports suggest that LG will follow the same suit. It is said that G3 will ship with Snapdragon 801 series quad-core processor with 2.3GHz/2.5GHz CPU speed, like we have seen in the Samsung, HTC and Sony flagship models. The processor will be backed by sumptuous 3GB RAM and 32GB inbuilt memory (expandable).
Mobile Operating Systems:
We have already seen many smart devices (tablets and smartphones) getting launched with v4.4.2 KitKat OS, so there is no prizes for guessing here that LG G3, being a marquee phone would certainly ship the latest Android OS out-of-the-box.
Along with the new operating software, LG is likely to incorporate custom UI with Knock Code, a secured screen un-locking system; where-in device owners can wake the phone's display just by tapping on the screen using more than 86,000 combinations. The knock pattern can be entered on any part of the screen's surface, whether the display is turned on or off - using anywhere from two to eight taps.
LG claims that the innovative Knock Code is safer and more user-friendly than the password based phone unlocking as it rules out the possibility of the pin-code theft and the phone's screen is also more responsive compared to bio-recognition locking system, which are much susceptible to variations in the environment.
[Also read: "Key features of Android v4.4.2 KitKat OS"]
Camera:
When LG released its official G3 trailer early this month, the company gave a close-up on the camera module on the rear side showing circular camera surrounded by LED flash on the right side and dark-black capsule to the left, leaving many scratching their head, what this mystery sensor might be?
If prolific twitter spy, @evleaks is to be believed, the black-sensor is a laser based auto-focus sensor.
For the uninitiated, this kind of auto-focus sensor is usually found in expensive cameras as 'Hologram Auto-Focus Laser'; Camera's assist-lamp projects visible light (or IR – infrared light) on to the subject, which the camera's autofocus system uses to achieve focus.
Specification wise, LG G3 is expected to house a 13.0-megapixel camera with OIS (Optical Image Stabilization) and the company has reportedly shown some special interest in latest youth fad 'selfie,' so they have reportedly incorporated a 2.1-megapixel front camera with 'enhanced selfie' mode feature.
Earlier this week, an anonymous source leaked the pictures of the LG G3 pre-event presentation held in South Korea exclusively for retailers. Photos now available with technology blog, PhoneArena has confirmed that the G3 will ship with same camera specifications mentioned above.
Expected Release Date Details:
LG is hosting six launch events for G3 in London, New York, San Francisco on 27 May and the following day at Singapore, Istanbul and in the home market Seoul, South Korea.
As far as release date is concerned, LG is likely to release G3 in select regions by June end, reported LGMobileIndia.in.
Expected Specifications of LG G3:
| | |
| --- | --- |
| Model | LG G3 |
| Display | Quad HD (aka 2K; 2560x1440p) IPS display with pixel density close to 540 ppi (pixels per inch) |
| OS | Android v4.4.2 KitKat |
| Processor | Qualcomm Snapdragon 801 series quad-core CPU |
| GPU | Adreno 330 |
| RAM | 3GB LPDDR3 |
| Storage capacity | Expected to ship with 32GB eMMC with options for expansion up to 128GB |
| Camera | Main: 13.0-megapixel camera with OIS (Optical Image Stabilization) Front: 2.1-megapixel front camera with enhanced selfie mode feature |
| Battery | 3,000 mAh |
| Network | 3G, LTE/LTE-A |
| Add-ons | USB v2.0, Bluetooth v4.0 BLE, NFC, Wi-Fi |
| Dimensions | 146.3 x 74.6 x 8.9 mm |