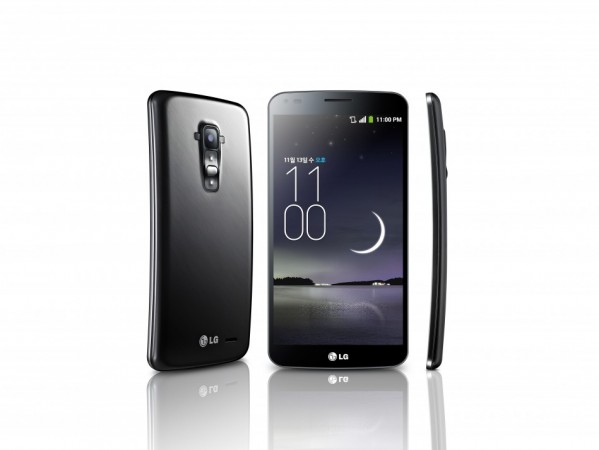 There have been a lot of rumors surrounding the release of LG G Flex 2 at the annual Sony CES 2015 event. Now, it seems the Korean tech giant is actually going to release the successor to the G Flex smartphone at the coveted electronics extravaganza held from January 5-9, 2015. There is no official announcement from LG about the smartphone's release but the tech giant has put up posters advertising the curved G Flex 2.
According to the Verge, LG is open about its upcoming launch of G Flex 2 at CES as the main hallway outside the show floor has posters of the G Flex 2 with a tagline, "Redefining the Curve." Sadly, there are no details about the upcoming smartphone except that it has a curved display and a Qualcomm Snapdragon processor. Qualcomm teased the upcoming G Flex 2 smartphone as the next high-end smartphone in the chipmaker's Snapdragon SoC family.
If rumors are to be believed, there may be a 6- or 5.5-inch display with 1080 x 1920 pixel resolution with a Snapdragon 810 processor. Like the original G Flex, the unannounced version of LG's curved smartphone will have the self-healing shell that will protect the handset from daily wear and tear. As per Qualcomm's leak from last week, there will be rear-mounted buttons in the G Flex 2.
It is highly expected that LG will make some upgrades in its G Flex 2 over the current model. The G Flex smartphone featured a 6-inch 720p plastic OLED curved display, a 2.26GHz Snapdragon 800 processor, 2GB RAM and a 13MP rear-facing camera.
The LG G Flex 2 is expected to be released on Monday, where more details about the smartphone's specs and features will be revealed.