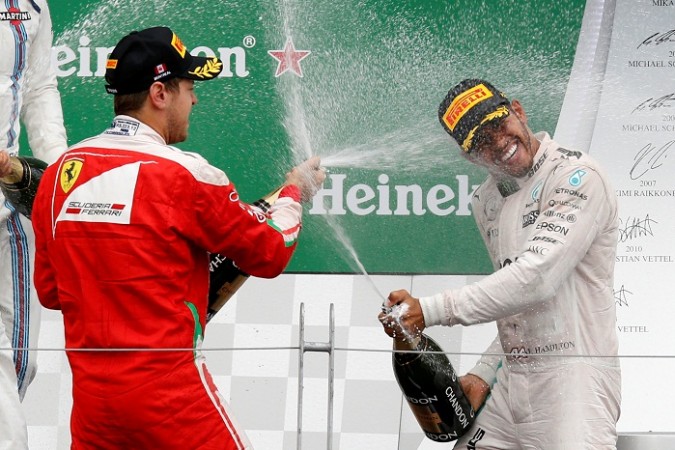 Lewis Hamilton dedicated his fifth Canadian Grand Prix win to boxing legend Muhammad Ali, who passed away on June 3. The British driver fought well against Sebastian Vettel to win the race on Sunday. Valtteri Bottas was the surprise package, as the Williams driver came from seventh place to grab a third-place finish.
The Canadian Grand Prix witnessed one of the best starts in an F1 race, as Ferrari's Vettel enjoyed a blistering start, overtaking both the Mercedes drivers – Hamilton and Nico Rosberg – within the first few seconds.
Things looked even worse for Rosberg, who collided with Hamilton on turn one, with the German going out of the track, and as a result moving from third to ninth position. This is not the first time that Mercedes have suffered a poor start. Rosberg and Hamilton were involved in a crash during the opening lap of the Spanish Grand Prix as well, which led to their exits.
"Today, I had another really bad start, I'm not quite sure why, I think probably I overheated my clutch. Sebastian and Nico got quite a good run down to Turn One, tyres are cold, big understeer, and I feel very grateful that me and Nico didn't damage anything on our cars. And otherwise it was just trying to chase this guy down. He was so quick out there. The car felt fantastic and it was set up just right with great work from the engineers and mechanic," F1's official website quoted Hamilton as saying.
However, Vettel could have even won the race, if not for the team's decision to go for a two-stop pit strategy. Hamilton went with a one-stop, which played an important role in the win.
"I'm not a big fan of blaming anyone or anything. I think it was a great weekend for Ferrari. And actually I enjoyed the race a lot. Didn't get the result I was hoping for, especially after the start, but I was enjoying it a lot," Vettel said.
Williams will be one of the happiest teams, after their driver Bottas helped them win their first podium of 2016. Force India should be pleased with their performance as both the drivers – Nico Hulkenberg and Sergio Perez – took points, finishing eighth and tenth place respectively.
With Hamilton winning the race, and his teammate Rosberg only managing a sixth-place finish, the defending champion closed the gap to nine points. Hamilton, who has won the last two races of the season, has 107 points, compared to Rosberg's 116. Vettel, meanwhile, is in third place, with 78 points.