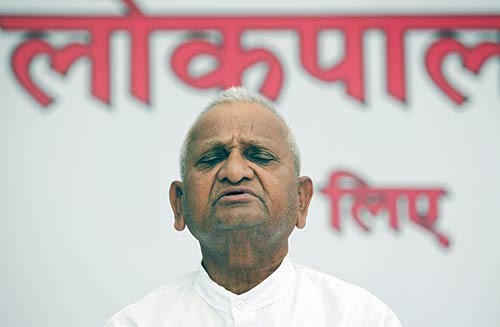 In an effort to break the logjam between the government and team Anna, the 73-year old Anna Hazare wrote to Prime minister Manmohan Singh. "Anna has written a letter to the Prime Minister and a response is awaited. Once Anna gets the reply, he will brief you," says activist Manish Sisodia.
According to sources, Hazare has sought written assurances from the government on some issues in the Lokpal bill.
"Anna Hazare had set three conditions for ending the deadlock," reported Times Now.
Further, the channel claimed, "Anna Hazare has demanded immediate discussions in Parliament on three contentious issues of the Jan Lokpal Bill on which the government had disagreed."
The three issues are: the appointment of Lokayuktas in the states, preparing a citizens' charter, and including the lower bureaucracy under the ambit of Lokpal Bill.
The anti-corruption crusader said he would end his fast "only when Parliament starts discussions on these issues," the channel claimed.
"The letter was sent through senior Maharashtrian leader and Union Minister for Science and Technology Vilasrao Deshmukh, who met the Gandhian who is on his tenth day of his fast," said Sisodia, who refused to give the full details of the letter.
On April 23, Prime Minister Manmohan Singh appealed to Hazare to stop fasting and assured him the Jan Lokpal Bill would be considered by Parliament along with the government draft.
In the meantime, the Lok Sabha on Thursday collectively appealed to Hazare to end his hunger strike as his life was "much too precious."