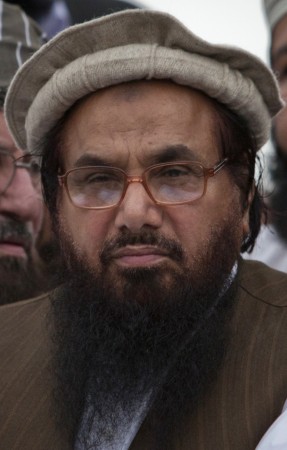 Hafiz Muhammad Saeed, the mastermind of 26/11 terror attacks in Mumbai and founder of militant group Lashkar-e-Toiba (LeT), led the Eid-ul-Fitr prayers at Gaddafi Stadium, Lahore on Friday morning.
The 64-year-old militant group leader is a free man in his home country Pakistan though he is wanted by India and United States for his terror activities. His posters were seen all over Lahore and tweeted Eid greetings on Friday besides anti-India messages.
Saeed, who is also the chief of Jamat-ud-Dawa, made the bold move in the wake of growing tensions between India and Pakistan over the 6 August ambush along the Line of Control (LoC) allegedly by Pakistani troops that killed five Indian soldiers who were patrolling in Poonch.
The matter created a furore in the Indian Parliament when the Defence Minister A K Antony gave out a controversial statement in the Lok Sabha saying that the attackers were 'dressed in Pakistan Army uniform'. The minister withdrew his statement and told the parliament on Thursday that nothing would happen along the LoC without the knowlwdge of Pakistani army and that the attackers be punished. He also warned the neighbouring country not to take advantage of 'India's restraint'.
Saeed has been accused of orchestrating the 2008 Mumbai terror attack that killed 166 people, including six Americans. India has repeatedly requested Pakistan to punish him and US has announced a bounty of $10 million on him but nothing has been done. He is still a free man, giving public speeches often smeared with anti-Indian messages, appear on television talk shows and organize public rallies.
He had claimed in an interview earlier this year that he moves freely in Pakistan 'like an ordinary man'.
"My fate is in the hands of God, not America," he told the New York Times in an interview in February.
He had earlier mocked US over the bounty on him, telling reporters "I am here, I am visible. America should give that reward money to me. I will be in Lahore tomorrow. America can contact me whenever it wants to."