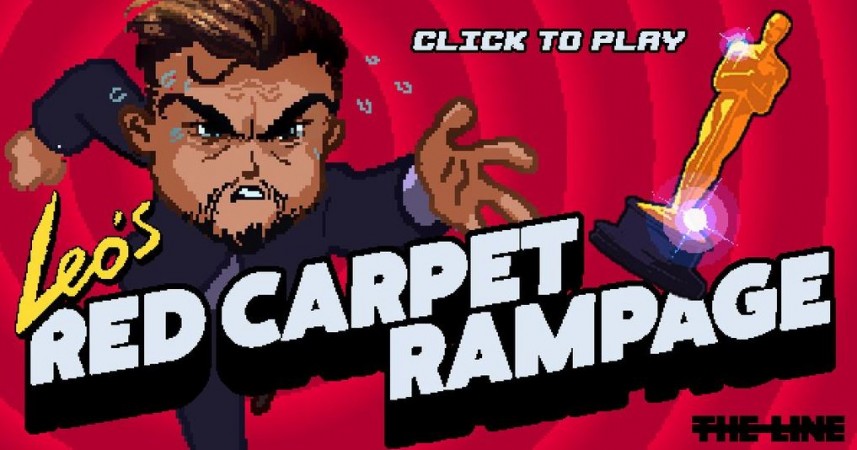 Leonardo DiCaprio has received five Oscar nominations until now and there have been copious amounts of memes and trolls on him not winning this coveted trophy. But now, players can make him win the golden statuette in "Leo's Red Carpet Rampage" browser video game from animation and design studio The Line.
The game has very simple controls (G and H keys and space bar) that will take players on Leo's pursuit for the Academy Award. The game starts with Leo saying he needs to win this Oscar and as players progress through the stages, they can make him win Golden Globes, Screen Actors' Guild awards, Emmys, MTV movie awards and BAFTAs.
Players will have to make DiCaprio jump obstacles that include the paparazzi and the iceberg (reminiscent of "Titanic"). The bonus stage called Quaalude Overdose needs players to make him get back into the car, fighting against time, like his character in "The Wolf of Wall Street."
The game also features other stars nominated for the category such as Bryan Cranston for "Trumbo", Matt Damon for "The Martian" (he's seen wearing a spacesuit), Michael Fassbender as Steve Jobs and Eddie Redmayne as Lili Elbe from "The Danish Girl."
The game also features a bonus round called Find The Black Nominee, that parodies this year's Academy Award list for lack of diversity.
DiCaprio has been nominated for his role in "The Revenant" in the Best Actor award category and the Academy awards ceremony will be held on Feb. 28.
Check out the game here – redcarpetrampage.com.