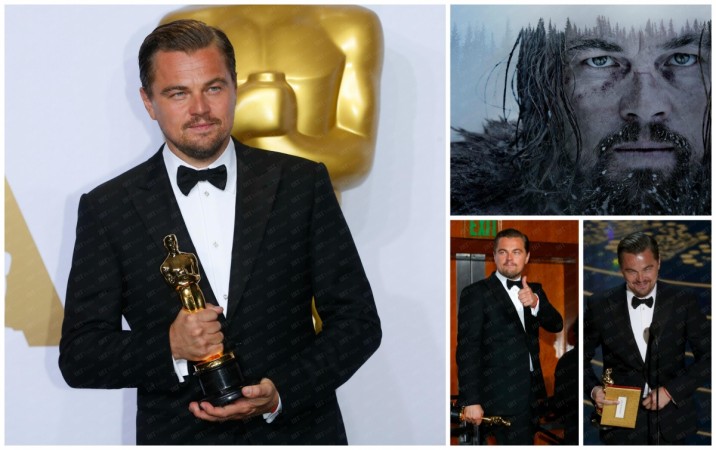 Leonardo DiCaprio has finally won the Oscar in the Best Actor category at the Dolby Theatre in Los Angeles, California.
DiCaprio won the prestigious title for his performance in the survival drama movie, "The Revenant," directed by Alejandro G. Iñárritu.
"Thank you so much to the entire Academy for such an incredible honor.‪#‎TheRevenant‬ is the product of tireless sacrifice by an incredible cast and crew. Their endless support and commitment to this project is the only reason I'm able to accept this award. This win is also an important opportunity to bring more attention to climate change and action needs to be taken by all of us right now. Visit MomentforAction.org," DiCaprio posted on his Facebook page after winning the award.
Many Indian celebrities have also expressed their excitement on DiCaprio winning the title for the first time in his acting career spanning 25 years. South Indian celebrities like Allu Arjun, Tamanaah Bhatia, Jayasurya, Salim Kumar, Suraj Venjarumoodu, Aju Varghese, Aashiq Abu and others took to social media to congratulate the Oscar winner.
Check out Indian celebrities' reactions to DiCaprio winning the prestigious title:
Yuvraj Singh ‏
Finally @LeoDiCaprio wins the Oscar ! It's amazing how the whole world is celebrating one of the finest actors Iv seen many congratulations
Sonakshi Sinha ‏
Thank u @LeoDiCaprio for bringing attn to climate change on the #Oscars stage. I think they should give u another one JUST for that.
Farhan Akhtar
Really happy for team #Spotlight .. Loved that film. And all that can be said about @LeoDiCaprio winning is.. Finally!!!
Anupam Kher
Congratulations #LeonardoDeCaprio for winning the Best Actor Award. The world can sleep Peacefully today.:) #InspirationalJourney #Oscars
Riteish Deshmukh ‏
"I am not taking tonight for granted." - @LeoDiCaprio - Line of the #Oscar2016 night. #BestActor
Huma Qureshi
'I'm not taking tonight for granted' @LeoDiCaprio ... Andddd that's how it's done #Oscar2016 #finally #happyfangirl
--
Arjun Rampal
Yay Leo did it finally.So well deserved.What a speech.I don't take the planet for granted,don't take this night for granted #leo #saveearth
Aju Varghese
Finally, Leonardo DiCaprio wins The Oscars.
Aditi Rao Hydari
Finally! Wohooooo!!! @LeoDiCaprio ❤️#Revenant
Shaun Romy
He might as well be the most loved person in the world heart emoticon Leonardo DiCaprio
Govind P Menon
Finally the Oscar won him !!!!