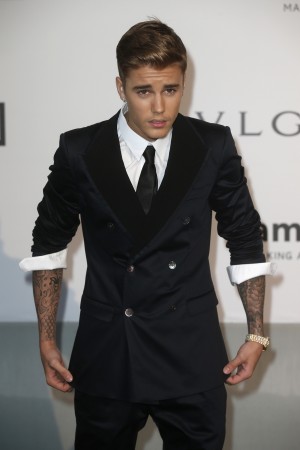 Ok, this one might not go down well with Justin Bieber fans. In an interesting turn of events, it has emerged that Leonardo DiCaprio snubbed Bieber at the Gotha nigthclub in Cannes, according to reports.
Apparently, Bieber wanted a photograph with DiCaprio but the latter did not allow it.
"Justin was strutting his stuff all over the club, walking around shirtless and scoping out chicks. But when he heard Leo was there, he had his bodyguard muscle a path to where Leo was sitting," Celebrity Laundry quoted a source from Star Magazine.
The source further stated that though Bieber kept on trying to be with DiCaprio, his efforts were in vain.
"Leo 'waved him off' the first chance he got. Apparently, "Leo thinks Justin's a little twit. Leo doesn't want or need photo ops with publicity-hungry, manufactured pop stars," the source said.
If reports are to be believed, this incident happened before Bieber's racism scandal.
It is understood that Bieber's team also requested Jennifer Lawrence to pose with the "Baby" singer. Lawrence did meet up Bieber but she also refused to be photographed with him, reported the website.
Bieber has earned a bad reputation for himself, since his involvement in various scandals over the past year. However, after the alleged racist video went viral, Bieber took to Twitter and offered an apology, where he stated that he did not realize how some words can really hurt people.
"As a kid, I didn't understand the power of certain words and how they can hurt. I thought it was ok to repeat hurtful words and jokes, but didn't realize at the time that it wasn't funny and that in fact my actions were continuing the ignorance. Thanks to friends and family I learned from my mistakes and grew up and apologized for those wrongs," Bieber noted.
"Now that these mistakes from the past have become public I need to apologize again to all those I have offended. I'm very sorry. I take my friendships with people of all cultures very seriously and I apologize for offending or hurting anyone with my childish and inexcusable mistake."
Meanwhile, Bieber's ex-girlfriend Selena Gomez is still understood to be very protective of him.
"Selena always feels that she should protect Justin, and as long as he continues to get in trouble, she will continue to feel bad for him and want to do something to help," Hollywood Life quoted a source.