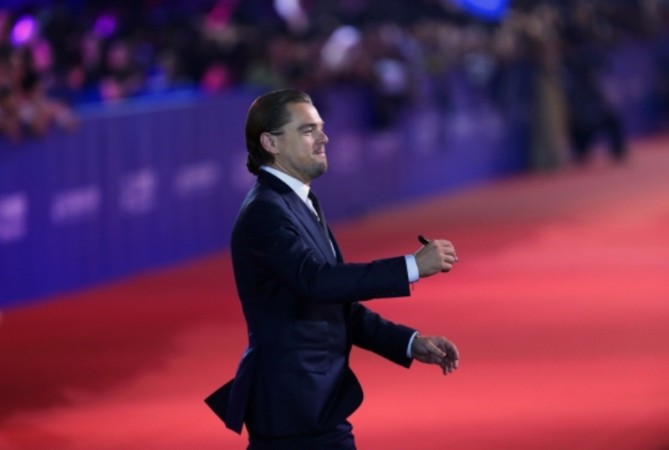 Leonardo DiCaprio, the "Wolf of Wall Street" star, may have broken up with his 20's something Victoria's Secret model girlfriend Toni Garnn, but the talented actor isn't moping around. He is partying in style in Miami and was seen leaving a posh club with 20 ladies in tow!
Eye witnesses told the New York Daily News that DiCaprio was spotted partying with Brandon Davis and Joe Jonas at the pop up version of 1 Oak at Rec Room in South Beach, Miami. By the end, DiCaprio apparently left the club with every single girl at the party.
"He left with 20 girls. Leo and 20 girls. He is my hero. He was overflowing with models everywhere. The Jonas brother looked scared, like he was going to drown and suffocate in the women. His face was hilarious," the source told the publication.
Other sources told E!Online that the party ended by 3.00 am. Dicaprio was apparently in "rare form" and was seen dancing and chatting up the party people including Paris Hilton at one point.
As soon as word spread about DiCaprio's "Jordan Belfort" style party wrap, it set the social media abuzz.
"The runway leads directly into Leonardo DiCaprio's limo. #VSFashionShow," one user tweeted.
"What if Leonardo DiCaprio brought those 20 women home and just made them sit through the movies he thinks he should've won an Oscar for," another mocked.
DiCaprio and Garnn reportedly broke up recently. Though there was no official word, the two haven't been spotted together since November. Garnn did not attend Dicaprio's birthday bash that month because she was working in Berlin.
The two flew in separately for the Miami Art Basel festival. DiCaprio didn't attend an exhibition in Katsuya in the SLS that she hosted at the festival.
"I never saw them together, they were always separate," a source told E!Online.
But Garnn is reportedly trying to get back with DiCaprio.
"Toni cancels her RSVPs once she finds out where Leo is, just to go where he is. But they broke up, then they were together, now they aren't officially back together either. He's been partying and dancing with a few other ladies at night and not being with Toni," an insider was quoted by FashionnStyle.