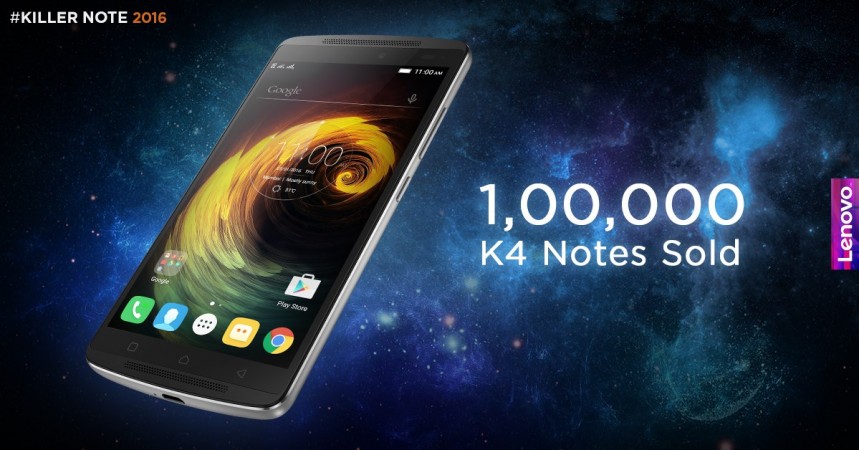 Lenovo on Wednesday revealed that it sold one lakh units of its latest K4 Note smartphone in India in just two flash sales. The information comes from the company's official Facebook account, shortly after the second flash sale for the K4 Note was concluded on Amazon India.
The first flash sale for Lenovo K4 Note was conducted on 20 January, where the company said it sold 60,000 K4 Notes "in a flash." The China-based smartphone manufacturer did not reveal how many units were sold on 27 January, but doing a simple math reveals it sold 40,000 units to reach a staggering one lakh total in two flash sales.
The new milestone achieved by Lenovo does not include the K4 Notes sold in the VR bundle. Demand for Lenovo K4 Note VR bundle has been overwhelming. The first VR bundle flash sale for 10,000 units last Tuesday was sold out in 0.9 seconds, while the second flash sale did not last more than a few seconds. Details of the second sale, which took place on Tuesday, are not yet known.
If all four flash sales for K4 Note and VR bundle are combined, the total number of units sold in India in just two weeks is well past one lakh. Lenovo had also revealed that lakhs of customers are registering for each flash sale.
Registrations are mandatory to participate in the K4 Note sale, but do not guarantee a device. Lenovo K4 Note and VR bundles are sold entirely on first-come basis and next sale registrations are open on Amazon India.
Lenovo K4 Note VR bundle will be available once again on 2 February at 2 pm. The bundle, which includes the K4 Note and AntVR Glass virtual reality headset, costs Rs 12,499. Customers can purchase the K4 Note without the VR headset for Rs 11,998 and the next sale will go live on 3 February exactly at 2 pm.
The demand for Lenovo K4 Note is justified by its specifications at the price it offers. The handset features a 5.5-inch Full HD display, 13MP primary camera, 5MP front snapper, dual 4G SIM support and a fingerprint scanner. The K4 Note is powered by a 64-bit MediaTek octa-core processor, 3GB RAM, 16GB expandable memory and a 3,300mAh battery.