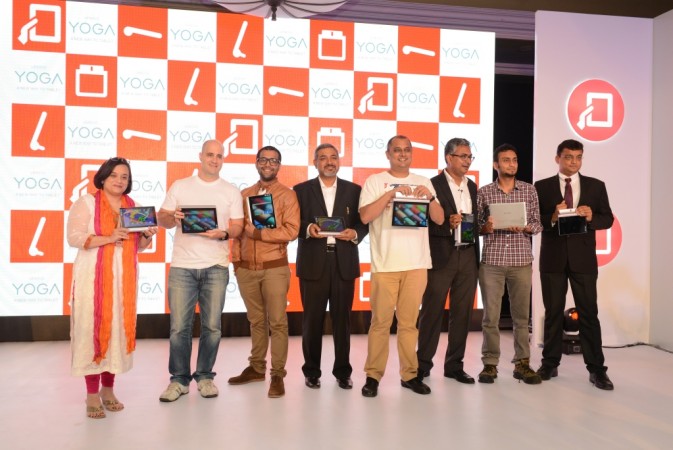 Lenovo has introduced a new batch of Android and Windows tablets under its Yoga series.
The new series of Yoga tablets will feature Intel processors. Lenovo will retail these products exclusively on Flipkart - one of India's largest e-commerce portals. Among the four new models, only Yoga Tablet 2 (8-inch) will be on sale from tomorrow, the other three will be available for sale only from mid-November.
The second generation of Yoga series has one 8-inch, two 10-inch and one 13.29-inch models. One will run on Windows OS, while the other three will feature Android OS at its core.
The new range of Yoga tablets will come with Full HD, Dolby Wolfson HiFi audio, 8MP rear and 1.6 HD front camera. They also come powered with the new Intel Atom Processor Z3745 for an excellent performance, coupled with a super-long battery of upto 18 hours.
The series also introduces a new Hang mode, beside the existing Stand, Hold and Tilt mode.
"All the improvements on the tablet have been based on feedback from users to make the product even more useful and adaptive. The devices offer unparalleled proposition to people who seek a tablet that doesn't constrain them but in fact sets them free. To highlight this aspect, we have devised a campaign involving social media as well as TV," said Bhaskar Choudhuri, Director, Marketing, Lenovo India.
"Our longstanding and strategic collaboration with Lenovo has resulted in a multitude of innovative computing devices like the Yoga Tablet 2. Performance and battery life define the user experience and the Intel processor powered Yoga Tablet 2 lets users do more of what they like at the speed they want opening up amazing possibilities to be entertained, stay connected, learn and work on the go," said Debjani Ghosh, Vice President, Sales & Marketing Group, Managing Director, South Asia, Intel, while commenting on the launch.
The 8-inch Yoga 2 tablet features a Full HD display with 1920x1200 resolution at 283PPI. The tablet runs on Intel Z3475 1.86GHz QuadCore processor and 2GB of RAM, along with Android KitKat 4.4 OS. It also features an 8 MP rear and a 1.6 MP front camera and is powered by a 6400 mAh battery. On the connectivity end, it offers 3G calling with 3G and 4G LTE surfing abilities. Featuring 16GB onboard memory, this 8-inch tablet can accept up to 64GB of MicroSD cards and will retail at a price of ₹20,990.
The 10-inch Android model Yoga 2 is priced at ₹28,990, while the Windows phone is priced at ₹34,990, with a one-year free subscription of Office 365. The 13-inch Yoga 2 Pro features a built-in projection capability and is priced at ₹47,990.