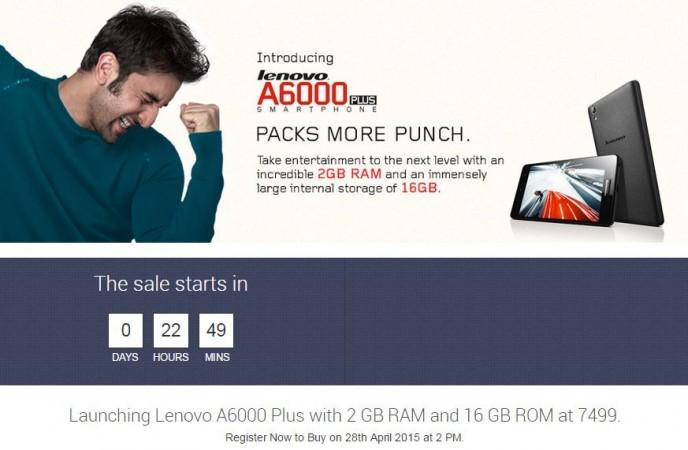 Lenovo is growing stronger in India, with the Chinese tech giant garnering exceptional response to its budget smartphones. During the first flash sale of A600 Plus on Tuesday, Lenovo saw 1 lakh units being sold in just 15 minutes, with the company claiming it as the world's biggest flash sale ever. The number of handsets sold in such a short span seems incredible, especially in a market which has well-entrenched players such as Xiaomi, Motorola and Yureka.
"In India's biggest flash-sale ever, Lenovo in association with FlipKart sold out 1,00,000 units of the recently launched A6000 Plus in 15 minutes," the company said in a statement.
Lenovo will hold the second flash sale for its A6000 Plus exclusively via Flipkart on 5 May.
Lenovo launched the A6000 Plus in India with much fanfare on 17 April. The new budget handset is rightly on the path to share similar success laid by its predecessor, the A6000. Although Lenovo has simply upgraded the storage and RAM capacity in the A6000 Plus, the attractive price point has apparently played a vital role in the success in India.
Lenovo A6000 Plus features a similar 5-inch HD display with dual Dolby Digital powered speakers. There's a 64-bit Qualcomm Snapdragon 410 processor onboard with 2GB RAM and 16GB internal space with microSD card expansion. On the camera side, there's an 8MP rear facing shooter with LED flash and a 2MP front snapper for selfies. A 2,300mAh batter powers the handset, which also comes with 4G LTE and dual-SIM support.
Lenovo A6000 Plus is effectively priced at ₹7,499, just ₹500 more than A6000, which differently offers 1GB RAM and 8GB onboard storage.
Registrations for the second flash sale on 5 May are mandatory; prospective buyers can sign up today (Tuesday) starting 6 pm for the next sale, on Flipkart.