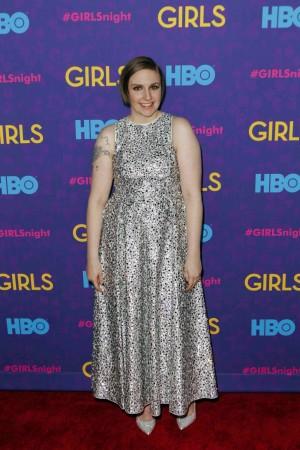 "Girls" star Lena Dunham has been featured on the cover of Vogue US's upcoming February issue. This is the star's very first magazine cover.
Photographed by famous celebrity shutterbug, Annie Leibovitz, Dunham is seen wearing a white, red-polka dotted Burberry shirt. However, the photo is more of a close-up head shot of the star, which shows her gazing wide-eyed at us.
That girl: @lenadunham does @Burberry Prorsum polka dots on our #February2014 cover: http://t.co/3wCw2gv3aT pic.twitter.com/ZspAQX69WE

— Vogue Magazine (@voguemagazine) January 16, 2014
While the cover shows a wide-eyed Lena staring into your soul, there are some pretty quirky pictures inside. In most of the photos, Lena's body has been drastically photo shopped, so much that in one her left arm seems to have gone missing.
Lena Dunham brings comedy, pop art to @VogueMagazine http://t.co/5fivtArjC4 pic.twitter.com/8SfgBwzHOB — Washington Post (@washingtonpost) January 16, 2014
In the above picture, Lena is wearing a Prada SS14 dress, sprawled in bed with co-star Adam Driver and her dog.
The media has been bashing Lena and Vogue for trying to stereotype skinny models. Metro UK writes:
Inside, the shots are very stylised. There's no doubt Lena looks amazing in the Prada SS14 frock and Celine coat, but we can't help thinking of what could have been. She is conforming to what Vogue wants rather than the other way round. Why did they cover her up in the coat and put her lying down on a bed? We want to see her standing up and facing the camera full-on, saying this is me and I don't care whether you think I'm too big to be in Vogue (which we absolutely don't think, but perhaps Vogue does).
However, Lena is happy with her pictures. She took to twitter to thank the folks at Vogue and posted another picture with a link to the feature:
Dear @voguemagazine: Thank you. Love, Lena http://t.co/aVMgsewDfr

— Lena Dunham (@lenadunham) January 15, 2014
Lena Dunham has been called the 'Hardest Working Millennial' of Hollywood by the magazine. Apparently, the "Girls" creator works constantly and churns out artistic masterpieces from her spontaneous experiences, reports The Business Insider.