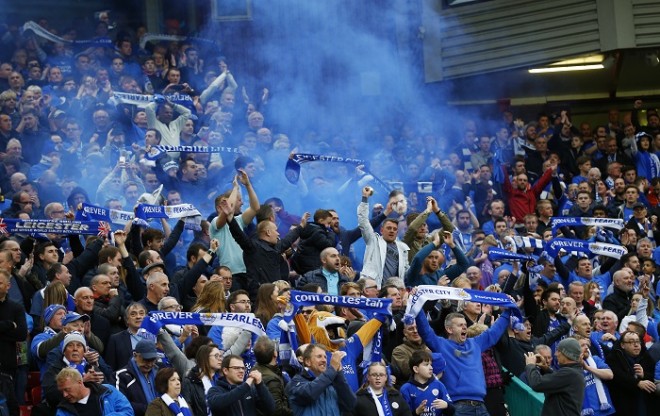 The more you think of it, the more remarkable Leicester City's march to the title seems. At the beginning of the season, having only just about survived relegation, Leicester City were tagged as 5000-1 to win the Premier League title. For a team to go on and win the title, not a 100-metre dash, but a marathon of epic proportions, where your quality and mettle would be tested time and again, is just plain ridiculous.
But, yet, somehow, Leicester managed to do it.
Their season started off in style as goals were smashed in at both ends of the pitch with great regularity. Nobody minded that, after all Leicester were great fun to watch at both ends of pitch, with the front dominated by Jamie Vardy and Riyad Mahrez.
When those two were in tune together, there really was nothing like it. Mahrez the silky smooth orchestrator, Vardy the smasher of balls into the back of the net, again and again and again. The two had to have the seasons of their footballing lives for this Leicester fairy tale to continue and finish with the happiest of endings, and they did, with the PFA and FWA Player of the Year awards a testament to that fact.
And then there was that midfield of Danny Drinkwater and N'Gole Kante. There is no player who perhaps deserves the plaudits more than Kante, the tireless running machine, who was unstoppable at both ends. If a tackle was needed to be made, Kante would be there to oblige; if a run was required from the middle to spark a counter-attack, there was Kante again.
While the second half of the season became about staying strong at the back, via Wes Morgan, Roberth Huth, Danny Simpson, Christian Fuchs and that excellent goalkeeper Kasper Schmeichel – and that is thanks largely to the manager Claudio Ranieri, who saw the need to tighten up his defence and did the needful – it will be the exploits of Vardy, Mahrez and Kante that will be remembered the most.
But most of all, this season of the Premier League will be remembered for one of the greatest title wins in sport. For a team to beat the billions of Manchester United, Manchester City, Chelsea, Arsenal and Liverpool, and that too with such ridiculous comfort, is quite sensational, the kind where you have to pinch yourself a few times just to see if this is not a dream.
Hey, maybe we are all part of one of those dreams within a dream like the movie Inception, where nobody can really say what is real and what is not. But, if this is all just a dream, mere fantasy of someone's mind, with all of us watching Leicester play a whole season, mere figures of the fantasy, long, long may this dream continue.